Navajo Generating Station
Update
The Navajo Generating Station (NGS) Extension Lease Environmental Assessment - November 2017 and Signed Findings of No Significant Impact. News Release, Review all information and related documents. →
Background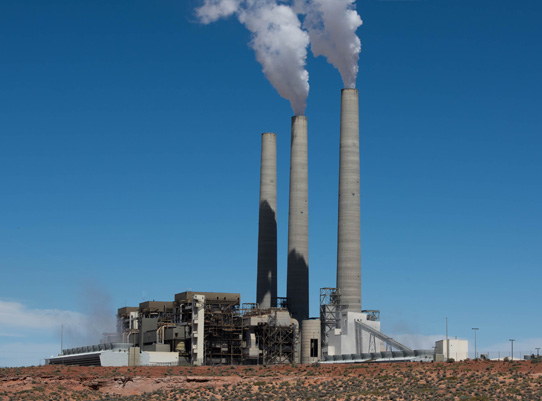 The NGS is a 2,250 megawatt (MW) coal-fired power plant located on the Navajo Indian Reservation in northern Coconino County, near Page, Arizona. It has three 750 megawatt (MW) generating units, which provide baseload power to customers in Arizona, Nevada, and California. NGS is owned by four utilities. Salt River Project Agricultural Improvement and Power District (SRP) owns 42.9% of NGS, and also owns an additional 24.3% which it holds for the use and benefit of the United States. Other current NGS owners include Arizona Public Service Co. (14.0%); Nevada Energy (11.3%); and Tucson Electric Power (7.5%). Reclamation manages the Federal 24.3% interest in NGS on behalf of the Secretary of the Interior under a 1969 delegation of authority. The four NGS owners, and the United States acting through Reclamation, are collectively known as the "NGS participants." All five NGS participants have the same roles and responsibilities regarding operation and expenditure decisions. Major decisions require consensus among/agreement of all five NGS participants.
The United States' share of NGS electricity is used to operate the Central Arizona Project (CAP). Congress, through the Colorado River Basin Project Act of 1968 (Public Law 90-537), authorized the Federal government's participation in NGS in conjunction with creation of the CAP. The CAP is a 336-mile water distribution system built to deliver more than 1.5 million acre-feet of Colorado River water annually from Lake Havasu in western Arizona, to agricultural users, Indian tribes, and millions of municipal water users in Maricopa, Pinal, and Pima counties, Arizona. Approximately two-thirds of the United States' share of NGS power provides the vast majority of the power used by the CAP pumps; the Federal share of NGS power not used to operate the CAP pumps is sold as "surplus" power. The revenues from surplus power sales are deposited in the Lower Colorado River Basin Development Fund and are available to assist the Central Arizona Water Conservation District (CAWCD), the operating agent of the CAP, in repaying the costs of constructing the CAP, and to fund Indian water rights settlements in central Arizona as identified in the Arizona Water Settlements Act (Public Law108-451).
The NGS plant lease was executed with the Navajo Nation (Nation) on January 19, 1971, and expires on December 22, 2019. The total acreage on the Nation affected by NGS-related lease and rights-of-way renewals is estimated to be approximately 7,500 acres.
Last Updated: 11/30/17