Kayenta Mine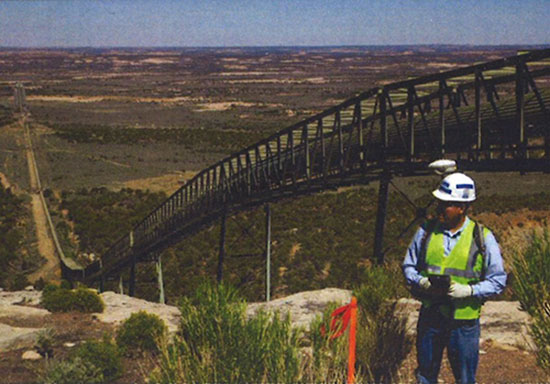 Kayenta Mine and its Relationship to the NGS
Coal used by the NGS is supplied by Peabody Western Coal Company's (PWCC) Kayenta Mine. Kayenta Mine is located approximately 80 miles southeast of the NGS near Kayenta, Arizona, in northern Navajo County, on tribal trust lands leased from the Navajo Nation and the Hopi Tribe. PWCC has coal leases with the Navajo Nation and the Hopi Tribe, which allow for the recovery of up to 670 million tons of coal from the leased areas.[1] The Kayenta Mine operates under a permanent program permit which was issued by the Office of Surface Mining Reclamation and Enforcement's Western Region (OSMRE) in 1990 pursuant to the Surface Mining Control and Reclamation Act of 1977 (SMCRA, Public Law 95-87). The existing permanent program permit area covers approximately 40,000 acres.
Under SMCRA, mining operations may continue under the permanent program permit, as long as the permit is renewed every five years. The last permit renewal occurred in January 2012, which was retroactive to July 2010. An environmental assessment (EA) was prepared to support the decision to approve that permit renewal application. An environmental assessment is being prepared for a permit renewal application that covers the period through 2020 (retroactive to July 2015), in compliance with the National Environmental Policy Act.
PWCC is currently producing about 6 to 8 million tons of coal per year from three active resource areas within the Kayenta Mine. Coal is delivered to NGS via a dedicated electric railroad operated by NGS. Presently, NGS is PWCC's only Kayenta Mine customer; Kayenta Mine is the sole source of coal used at NGS. Under PWCC's existing permanent program permit there are sufficient coal reserves approved to be mined to supply coal to NGS through at least 2019.
[1] To date, approximately 400 million tons of coal has been mined, leaving approximately 270 million tons available to be mined under the current coal leases.
Last Updated: 7/28/17