3406(b)(1) San Joaquin River Riparian Habitat Restoration Program
3406(b)(1) San Joaquin River Riparian Habitat Restoration Program
Since 1997, the San Joaquin River Riparian Habitat Program (SJRRHRP) has focused on:
(a) bringing together diverse interest groups to promote the development of consensus based riparian restoration
(b) funding or supporting various restoration programs, activities, and efforts beneficial to the restoration of the San Joaquin River.
This effort falls under the purview of the Central Valley Project Improvement Act (CVPIA) established in 1992.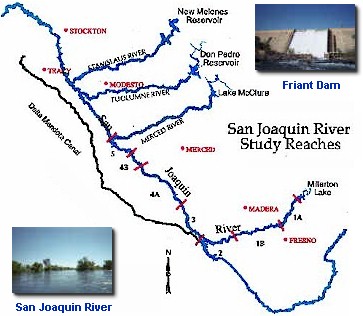 Other Resources
Bureau of Reclamation
South-Central California Area Office
1243 "N" Street
Fresno, CA 93721-1813
(559) 487-5255 (Office)
(559) 487-5397 (FAX)
(559) 487-5933 (TDD)

Note: documents in Portable Document Format (PDF) require Adobe Acrobat Reader 5.0 or higher to view download Adobe Acrobat Reader.
Last Updated: 7/1/21