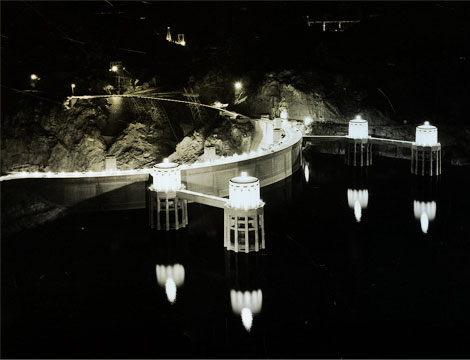 Hoover Dam with lighted intake towers, December 1940. Reclamation photo.
Despite record breaking blizzards in January and February 1948, which paralyzed all forms of travel throughout Western United States, a total of 356,778 persons visited Hoover Dam during 1949, according to a report by C.P. Christensen, Director of Power, Boulder Canyon project, Nevada.
Only the abnormal travel years of 1947 and 1948, and the peak prewar year of 1941 surpassed the 1949 total. The 1949 daily average of 977 visitors was just a bit above the daily average of 966 since guide facilities began.
During 1949 at least two records were established. The 3,658 people who visited the dam on Memorial Day set a postwar daily record, and the 53 who braved the snow storm of January 12, 1948, set an all-time low for any one day since guide service facilities began in 1937.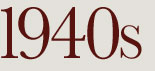 PROJECTS
World War II - Reclamation, Arizona, and Hoover Dam
WATER USES
Reclamation Meets The Challenge
LEGISLATION
The Mexican Water Treaty
ENVIRONMENT
Arizona's 1500 Years of Irrigation History
PEOPLE
Gila Homesteaders Take Over