Crow Tribe Municipal, Rural, and Industrial Water System – Public Comment
Public involvement is a key component of the federal environmental review process. All interested parties are encouraged to participate in the MR&I Project by informing themselves about the project, asking questions, attending public scoping meetings, and providing their comments.
Public involvement is integrated into each step of the preparation of an Environmental Assessment (EA). The diagram below shows how you can get involved along the way.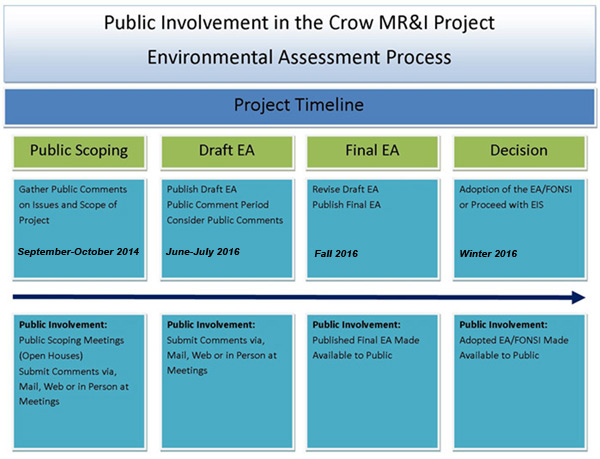 Public Involvement in the Crow MR&I Project Environmental Assessment Process - Project Timeline
How to Get Involved
Public Scoping
Scoping is the first phase of the National Environmental Policy Act (NEPA) analysis process. It is an important component intended to give interested parties the chance to comment on a proposed action and to offer suggestions about the issues to be considered in the EA analyses.
Public scoping meetings (open house format) were hosted during September of 2014 by the Crow Tribe, Bartlett & West, Reclamation, and the Bureau of Indian Affairs. The public was invited to attend the open houses to ask further questions and to provide comments on the environmental issues and concerns associated with the construction of the MR&I Project.
Current Public Involvement Opportunities
The comment period on the draft MR&I EA is now open. Interested parties are invited to provide written scoping comments to Reclamation at the mailing address or the web site address listed below. The comment period is open until midnight on August 19th, 2016.
Future Public Involvement Opportunities
Future public involvement activities for the MR&I system will include public distribution of the Final Pilot Plant EA and Decision Notice/Finding of No Significant Impact (FONSI), if applicable.
Submitting Comments
Comments and input on this project and the EA can be made at any time on the Web site, by email, by post, or in person.
It is standard practice for Reclamation to make comments available to the public, including publication on the internet. Before including your address, phone number, e-mail address, or other personal identifying information in your comments, you should be aware that your entire comment – including your personal identifying information – may be made publicly available at any time. If you wish Reclamation to withhold your name and or address, you must state this prominently at the beginning of your comment. Except for proprietary information, Reclamation will make all submissions from organizations or businesses, and from individuals identifying themselves as representatives or officials of organizations or businesses, available to the public in their entirety.
For More Information
For further information on the MR&I EA, please contact:
Main Contact (Project Manager, Engineering & Design):
Shane Schieck
Bureau of Reclamation
406-247-7832
sschieck@usbr.gov
NEPA/Environmental Review Process:
Joey e'Silva
Bureau of Reclamation
406-247-7720
esilva@usbr.gov
Crow Nation:
Larry Blacksmith, Water Rights Director
Larry.Blacksmith@crow-nsn.gov
Mailing Address:
Bureau of Reclamation
Attn: Crow MR&I Water Projects (GP-4000)
P.O. Box 36900
Billings, MT 59107-6900
Last Updated: 4/13/17