Hydropower Program
Reclamation's Role in Hydropower
Index
---
OVERVIEW OF THE ELECTRIC UTILITY INDUSTRY
The electric power industry is a combination of private, Federal, and public nonprofit organizations. The distribution of capacity, generation, revenue, and sales differs widely among ownership groups.


Different ownership groups have different goals, organizational characteristics, and financing methods.


The U.S. Government is one of the largest producers of electricity in the United States. Federal power is not generated for profit. The goal of all Federal power producers is to provide power at the lowest possible rate consistent with sound business principles, giving preference to public bodies and cooperatives in the sale of electricity.


The electric utility industry is regulated at both the Federal and State levels. Economic regulation of IOU's (investor-owned Utilities) is based on:
(a) The importance of reliable and economic electric power to the public interest.

(b) The practice of granting exclusive franchise under the concept that electric utilities are natural monopolies. Regulation is used to limit IOU's monopoly profits and encourage efficiency.
Markets for electricity in the U.S. are undergoing fundamental changes with new customers and suppliers appearing, traditional regulatory structures changing, and a less centralized, competitive market emerging. The industry is evolving from utilities owning and operating every element of the business to three distinct businesses: power generation, power transmission, and distribution and retail customer service. The Energy Policy Act of 1992 continues this trend of increasing competition in the industry. This combined with increasing environmental concerns and mandates, indicates a rapidly changing future for the electric power industry.


Generally, all electric utilities, regardless of ownership, are subject to Federal regulations concerning air, water quality, and the protection of wildlife. They must obtain Federal licenses for hydroelectric and nuclear generation facilities, and must comply with Federal laws requiring power exchanges with qualifying small power and cogeneration producers. However, Federal agencies are not required licenses to construct or operate hydroelectric facilities.


The Bureau of Reclamation and the U.S. Army Corps of Engineers are the primary producers of Federal hydroelectric generation.
HYDROPOWER IN THE UNITED STATES
Background
Hydropower played an important part in the development of this Nation's electric power industry. Both small and large hydropower developments were instrumental in the early expansion of the electric power industry.


Thirty to forty years ago, hydroelectric plants supplied as much as 40 percent of the electric energy produced. Although hydroelectric energy production has steadily increased, the amount produced by other types of powerplants has increased at a faster rate.


Today, hydropower, including pumped storage, supplies about 14 percent of the electrical generating capacity of the United States. Coal-fired steam generation is the number one source of electrical production in the United States.


Hydropower is the primary source of renewable energy in the United States.


The costs of generating hydropower are the lowest of all sources of electricity.


The hydroelectricity currently produced each year in the United States, is equivalent to nearly 500 million barrels of imported crude oil. This presently represents a value for existing hydrogeneration of about $9 billion annually.


Hydropower generation does not produce atmospheric emissions, which are a growing problem on both national and global levels.


Hydropower is presently the most efficient way to produce energy with each kilowatt-hour of hydroelectricity being produced at an efficiency twice that of competing energy resources.


The addition of new hydroelectric capacity would reduce the United States' reliance on fossil fuels and provide associated water resource benefits, such as recreation and water supply.
Undeveloped Potential
Potential exists for increases in hydropower without the building of new dams as only 3 percent of the approximately 80,000 existing dams in the United States have hydropower facilities.


Studies indicate that many potential sites for all types of hydropower could be developed. If all these sites could be put to use, the output could double. However, many sites require further study to determine their economic, environmental, and social acceptability. A variety of restraints exist on this development, some natural and some imposed by our society. The natural restraints include such things as occasional unfavorable terrain, and hydrologic conditions. Other restraints include disagreements about who should develop the resource or the resulting changes in environmental conditions. Often, other developments already exist at sites otherwise suitable for hydropower generation.


Finding solutions to the problem imposed by natural restraints demands extensive engineering efforts. Sometimes no solution is possible, or is so expensive that the entire project becomes impractical. Solutions to the societal issues are frequently much more difficult to resolve and the costs are far greater than those imposed by nature. Developing the full potential of hydropower will require consideration and coordination of many varied factors.


Less than one percent of the money now being spent by the United States Department of Energy on renewable energy research is directed to hydropower research, however, there are numerous areas where research can lead to increases in the efficiency and reliability of hydroelectric plants and decreases in maintenance costs, as well as help facilitate response to environmental issues.
RECLAMATION'S POWER PROGRAM
Reclamation is the Nation's second largest producer of hydroelectric power. Reclamation owns and operates 53 hydroelectric powerplants, comprising 176 generating units and over 14 million kilowatts in installed capacity. In addition Reclamation has a 546,750 kW share of the installed capacity of the coal-fired Navajo Steam Powerplant. Reclamation powerplants annually generate over 40 billion kilowatt hours of hydroelectric energy, enough to meet the annual residential needs of 3.5 million U.S. homes or the energy equivalent of over 80 million barrels of imported crude oil.


Reclamation is a National leader in managing and developing hydropower and the continued stream of benefits derived from Reclamation power facilities are of vital importance to the Federal Government and National, State, and local economies.


Reclamation's hydroelectric powerplants play an important, long-term role with important implications in the Nation's security, energy self-sufficiency, quality of life, environment, and economy.


When compared with all electric utilities, Reclamation ranks as the 9th largest electric utility in the United States on the basis of production capacity.


Reclamation powerplants account for 23 percent of the hydroelectric generating capacity in the Western United States.


Revenues from the sale of power and energy not only pay the costs allocated to power, but also pay a variety of certain other costs such as irrigation aid and salinity control, which are assigned to power for repayment. Federal power is marketed at the lowest possible rate consistent with sound business principles.


Reclamation is obligated to repay the capital costs within 50 years.


Revenues from the sale of power are presently around $900 million annually.


Power revenues have provided over 10 billion dollars in project repayment to the Federal Treasury and are responsible for repayment of more than 90 percent of Reclamation project costs.


Major Reclamation Powerplants include:
Grand Coulee Powerplant on the Columbia River in the state of Washington (largest hydroelectric powerplant in the United States)

Hoover Powerplant on the Colorado River in the states of Arizona and Nevada

Glen Canyon Powerplant on the Colorado River in the state of Arizona

Shasta Powerplant on the Sacramento River in the state of California

Yellowtail Powerplant on the Bighorn River in the state of Montana
ALLOCATION OF COSTS
Every Reclamation project includes many types of facilities that can generally be classified as power, water storage and conveyance, or joint use. Once the facilities are classified, the allocation process begins.


Where facilities are used jointly by power, irrigation, and possibly other purposes such as flood control or recreation, the relative investment in each type of facility is allocated in accordance with established methods of allocation.


Once the allocations are determined, cost-assignments are made in proportion to allocation as to when project beneficiary will pay. After the cost-assignments are made, additional sub-allocation or cost-reassignments are determined. Specifically, where it is determined that the allocation for irrigation represents more money than the agricultural water users are able to pay, that portion above their ability is reassigned to the power users for repayment. That portion is termed irrigation aid.


The repayment of costs that ensues, once the above process is completed, takes on the form of power and energy sales, water sales, and facility use fees.


Where the cost assignments goes to the taxpayer, no repayment is made. Such is the case for flood control, recreation, navigation, or any similar benefit which serves the general welfare of the American people.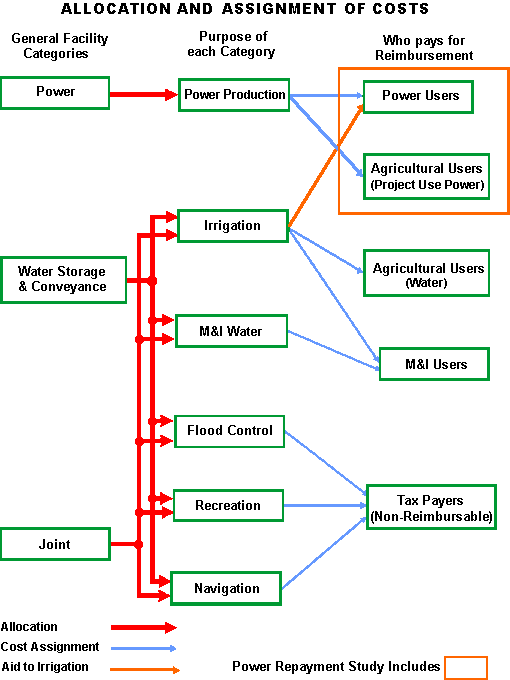 FEDERAL RATE AND REPAYMENT
Federal rate-setting procedures and financial operation differ from those of private utilities, whose primary purpose is to provide a suitable return to their investors. Federal utilities have a variety of purposes. The TVA (Tennessee Valley Authority), BPA (Bonneville Power Administration) and the Department of Energy have their own rate-setting procedures. The power marketing administrations follow Department of Energy procedures, similar to BPA procedure. The Federal utilities are not subject to State government regulation.


Procedures for BPA rate changes are outlined in the Pacific Northwest Electric Power Planning and Conservation Act of 1980. According to these procedures, the BPA administrator first publishes a notice in the Federal Register that BPA intends to change rates. Then BPA prepares revenue requirements and rate design studies, and an initial proposal. This proposal is subjected to formal rate hearings, as well as scrutiny of public hearings throughout the Pacific Northwest. The BPA administrator then submits the proposal to the FERC (Federal Energy Regulatory Commission); this commission may approve an interim rate while it studies the proposal. Rather than holding full-scale hearings, FERC generally studies the proposal in the manner of an appeals court and approves or rejects it. FERC holds hearings on all BPA rates for nonfirm power sales outside of the Pacific Northwest.


Since 1979, rate actions by the other power marketing administrations have followed procedures established by the Secretary of Energy. After the administrator announces plans for a rate change and a proposal is developed, public information and comment forums are held and written comments are solicited. The administrator then makes a final proposal to the Secretary of Energy. The Deputy Secretary of Energy has authority from the Secretary to implement an interim rate. FERC studies the proposal to determine whether the rates are consistent with statutory requirements. FERC is authorized to confirm and approve the rates and put them into effect on a final basis.
POWER REPAYMENT STUDIES
To determine their rate schedules, the power marketing administrations use the power repayment study, rather than procedures used by other utilities. The power repayment study shows estimated revenues and expenses, year by year, over the remainder of the power system s repayment period. The estimated amount of Federal investment amortized during each year and the amount remaining to be amortized are also shown. Unless otherwise specified by law, the Departmental policy has been that all Federal power investments are to be repaid within 50 years of the year after the project goes into service.


Power repayment studies are prepared annually for each project to determine if an rate adjustment is needed. Power and transmission rates are established pursuant to various public laws and acts applicable to the project or power system involved.


If a rate adjustment is indicated for any project, such action is initiated. Studies used for rate adjustments become available to the public as part of the rate brochure.


Rates for power and energy must be as low as possible consistent with sound business principles, but high enough to repay Reclamation s operation and maintenance expense, purchase power and wheeling expenses, replacements and power investments with interest, that portion of the Federal irrigation investment which is beyond the repayment capability of the water users, and various other costs assigned to power.


Commercial rates are established to recover:
| | |
| --- | --- |
| (1) | An appropriate share of annual operation and maintenance costs and other fixed annual costs necessary for good operating practice; |
| (2) | Replacement of facilities within their service lives; |
| (3) | Repayment of the allocated commercial power investments within 50 years at an interest rate normally fixed at the time of construction; and |
| (4) | That portion of the power construction costs allocated to irrigation pumping as well as other project irrigation costs in excess of the irrigators ability to pay. The past development of good hydroelectric dam sites, the joint savings in multipurpose development, low fixed interest rates, and 50-year repayment periods have all contributed to what are now considered very attractive Federal rates. As these rates are now considerably lower than the costs of alternative thermal facilities, there is great demand for power produced at Federal facilities. |
Under the preference provisions of current legislation, municipalities and other public entities have priority in purchasing power from Federal power systems. Federal contracts entered into with private entities on a short-term basis require the inclusion of withdrawal clauses to permit future sales to public bodies. Generally, the price charged for capacity in current price structures is the same regardless of whether the sales are for capacity only or for capacity and energy combined.


When power sales are part of a basin-wide Federal project, revenues from those facilities are generally used to assist in the repayment of irrigation construction costs within a 50-year period beginning after completion of the project, and after an allowance of up to ten years for an irrigation development period. Rates are thus established for irrigation pumping and commercial sales so that the combined revenues recover all operating expenses and that portion of the project construction costs, which, by legislation, is deemed reimbursable and assigned to power. Costs allocated to commercial power include interest and costs allocated to irrigation do not.


The establishment of project use power pumping rates by projects reflects a number of factors existing at the time of Congressional authorization, such as the importance of irrigation pumping, ability of the irrigators to pay, and the cost of electricity within the power market areas. In the past, irrigation pumping rates were expected to recover, as a minimum, the annual operation, maintenance, and replacement costs of the power facilities assigned to providing that service.
MARKETING POWER AND ENERGY
Basic Marketing Criteria
In marketing power and energy, the Federal Power Marketing Administrations are governed by several statutory requirements. Two of the more pertinent requirements are:
| | |
| --- | --- |
| (a) | Preference in the sale of power shall be given to municipalities and other public corporations or agencies, and also to cooperative and other nonprofit organizations financed in whole or in part by loans made pursuant to the Rural Electrification Act of 1936 and by amendments thereof. |
| (b) | Revenues from the sale of power and energy are to be adequate not only to pay costs allocated to power, but also to pay a variety of certain other costs such as irrigation aid and salinity control, which are assigned to power for repayment. |
The Power Marketing Administrations market the firm power and energy produced at Reclamation hydroelectric facilities at the lowest possible rates consistent with sound business principles.
Contract Administration
Marketing programs and criteria are implemented with the negotiation of power contractors. Power contracts establish the obligations and entitlements of each of the parties to the contract. Contractual arrangements may be drafted in the format of a contract, supplement of agreement, memorandum of understanding, or a letter of agreement. Power contracts cover the following general categories:
Electric Service
Interconnection
Transmission
Facility Use
Operating Agreements
Determination of the Amount of Power for Sale
The total amount of power available to be placed under contract is determined by taking into consideration the installed capacity at powerplants, forecasting load patterns of specific marketing areas, system losses, water operations and depletions, and the historical streamflow hydrology.
Power Allocations
The allocations procedure is an apportionment process used to distribute specific amounts of firm power to qualified potential customers. Allocations are required when requests from qualified purchasers exceed the amount of available firm power. Allocable firm power may become available:
From new projects or plants


As a result of changed operating conditions or a reevaluation of available capacity and energy from an existing project


When contract arrangements for the sale of allocable firm power are terminated
Last Updated: 2/4/16