Cle Elum Pool Raise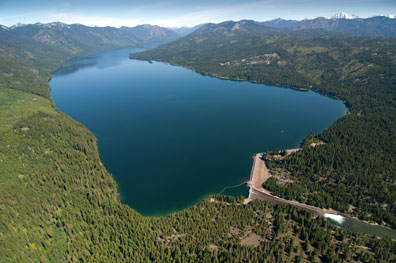 The Bureau of Reclamation and the Washington State Department of Ecology have prepared an Environmental Impact Statement (EIS) on the Cle Elum Pool Raise Project and it is available to the public. Reclamation and Ecology are joint leads in preparing this EIS as a combined National Environmental Policy Act (NEPA) and State Environmental Policy Act (SEPA) EIS.
The Cle Elum Pool Raise Project was authorized for implementation, including construction, under the Yakima River Basin Water Enhancement Project (YRBWEP) Title XII, October 31, 1994. It has also been identified as a component of the Yakima River Basin Integrated Water Resource Management Plan (Integrated Plan). Section 1206 of Title XII includes authorization to modify the radial gates at Cle Elum Dam to provide an additional 14,600 acre-feet of storage capacity in Cle Elum Reservoir, provide for shoreline protection of Cle Elum Reservoir, and provide environmental mitigation for impacts from the Project, as necessary.
The Pool Raise Project consists of raising the maximum water level of Cle Elum Reservoir by 3 feet, from a current maximum elevation of 2,240 feet to 2,243 feet. Reclamation and Ecology propose to use the additional stored water from the Cle Elum Pool Raise Project to improve instream flows consistent with the existing Title XII authorization, or Reclamation would seek congressional authorization to redesignate the water as part of the Yakima Project Total Water Supply Available (TWSA) for both instream and out-of-stream uses.
A Draft EIS was released to the public in September 2014, followed by a public comment period. Comments received on the Draft EIS have been addressed in the Final EIS released May 8, 2015. Alternative 3 – Additional Storage Capacity for Instream Flow with Hybrid Shoreline Protection—is identified in the Final EIS as the Preferred Alternative.
---
Contact
Wendy Christensen
gchristensen@usbr.gov
(509) 573-8050
Bureau of Reclamation
Pacific Northwest Region
Columbia-Cascades Area Office
1917 Marsh Road
Yakima, WA 98901-2058
Thomas Tebb
Thomas.tebb@ecy.wa.gov
(509) 575-3989
Director, Office of Columbia River
State of Washington
Department of Ecology
15 W. Yakima Ave, Ste 200
Yakima, WA 98902-3452
Last Updated: 9/21/18