Third Power Plant Overhaul Project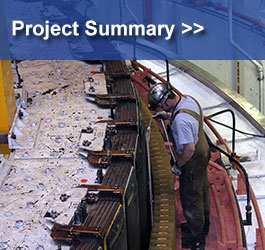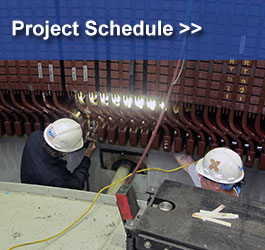 Project Update - Third Power Plant (TPP) Status Report – January 26, 2018
Mechanical Overhaul of Units G-22, G-23, and G-24:Construction phase work for the first Unit, G24, began in March 2013 and concluded on April 13, 2016; Unit G23 began overhaul in late April 2016 and is currently in the final stages of its refurbishment phase. After successfully going through a major repair on G23's Outer Head Cover, the government and its Contractor aim to begin reassembly in February of 2018 and return the unit to service by this fall. Unit G22 will be the last unit to be overhauled in this Contract and is anticipated to be completed in the summer of 2020.
Overhaul of Units G-19, G-20, G-21: The uprate of units G19-G21 is in the specification requirements phase, which will ultimately lead to a "Design-Build" project. After finding a multitude of complex issues during a G21 outage in 2016-2017, Industry and the government have had a series of interactions (three Industry Days) and decided that this was the best approach for addressing the overall goal, which is to have operational reliability for the next 50 years. We anticipate moving this project to the procurement phase in late FY18 and begin a two-year, two-phased RFP. The general scope will be titled "Modernization of Units G19-G21," which will include a blend of overhaul work and an undefined level of component replacement for these three units. Runner upgrades will be an important part of the project, so that a wider range of operation is achieved, and could potentially add another 240 Megawatts of power generation at Grand Coulee. Once award is made, the selected Contractor will finalize design and manufacture of new components and start physical work on the first unit in FY23.
---
As part of the Third Powerplant Overhaul Project, the contractor has prepared a simulation of the base scenario showing step-by-step how the units will be disassembled and placed in various locations. The animation was prepared using CAD files and other types of software listed in the credits. There is no audio in this version of the animation.
This interactive PDF showcases a 3D model of a generator and allows you to take it apart, rotate it, and view it in detail. Download the 9 mb PDF >>
---
Contact
Lynne Brougher
Public Affairs Officer
lbrougher@usbr.gov
(509) 633-9503
Last Updated: 8/14/18