Third Power Plant Overhaul Project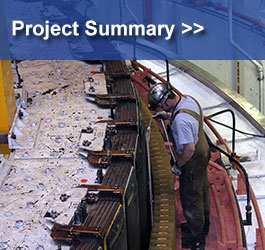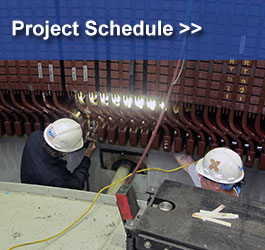 Project Update - Third Power Plant (TPP) Status Report – May 30, 2019
Mechanical Overhaul of Units G-22, G-23, G-24: Construction phase work on this current contract continues. Unit G-24 was overhauled and returned to service in April of 2016, and Unit G-23 recently concluded its overhaul and was returned to service on March 15th, 2019. Significant challenges with each of the first two units have extended the duration of this contract, which was originally scheduled to be complete at the end of 2017. Major wear on components including the wicket gates, shaft assemblies, thrust bearing, rotor, and outer head cover have all contributed to additional work for the government and its contractor. We are focused on completing the overhaul work for the last unit utilizing lessons learned from the first two units and work to complete remaining contract work by the end of 2020.
Overhaul of Units G-19, G-20, G-21: Originally, the plan for Units G-19, G-20, G-21 was to overhaul similar to the G-22, G-23, G-24 contract. Because of lessons learned on G-22, G-23, and G-24 and observations from a maintenance perspective on G-19, G-20 and G-21, the work plan for these three older units has evolved into a modernization minded project over the past few years. The ultimate goal for this project is to ensure reliability and provide three modernized units that will operate with flexibility and durability over the next 40+ years.
Currently, Reclamation is working with a consultant to gather project data to develop a cost and schedule risk analysis on a variety of modernization options that may include up to full replacement of the unit(s). We anticipate an evaluation of this product by late summer and hope to resume work on the final specification and solicitation in early FY20. Efficiencies and increases of power are expected to result from these modernized and more robust units. Procurement, award, and manufacturing of new components will likely occur over the next several years. Construction isn't expected to begin until 2024-25.
---
As part of the Third Powerplant Overhaul Project, the contractor has prepared a simulation of the base scenario showing step-by-step how the units will be disassembled and placed in various locations. The animation was prepared using CAD files and other types of software listed in the credits. There is no audio in this version of the animation.
This interactive PDF showcases a 3D model of a generator and allows you to take it apart, rotate it, and view it in detail. Download the 9 mb PDF >>
---
Contact
Lynne Brougher
Public Affairs Officer
lbrougher@usbr.gov
(509) 633-9503
Last Updated: 6/3/19