Federal Columbia River Power System Hydrosystem
FCRPS Home | Hydrosystem | Hatcheries | Tributary Habitat Program | Tributary Habitat RME | Fish Accords
A subset of the FCRPS projects, known as the Columbia River System (CRS), is managed as a coordinated system for multiple congressionally authorized public purposes by the federal action agencies. Under ESA consultation for the CRS, the effects of the operation, maintenance, and management of the 14 federal dam and reservoir projects are evaluated.
The action agencies continue to operate and maintain the 14 federal CRS projects to meet congressionally authorized purposes: flood risk management, fish and wildlife conservation, power system management, irrigation/water supply, navigation, recreation, system maintenance, water quality, and municipal and industrial water supply, though not every project is authorized for every one of these purposes.
The Corps operates and maintains 12 of the 14 federal CRS projects: Bonneville, The Dalles, John Day, McNary, Ice Harbor, Lower Monumental, Little Goose, Lower Granite, Dworshak, Chief Joseph, Albeni Falls, and Libby dams. The Corps operates and maintains these projects for flood risk management, navigation, hydropower generation, fish and wildlife conservation, irrigation, recreation, water quality, and municipal and industrial water supply, though not every project is authorized for every one of these purposes.
Reclamation operates and maintains the remaining 2 of the 14 federal CRS projects: Grand Coulee and Hungry Horse dams. Reclamation operates these projects to support multiple legally mandated purposes, including irrigation, hydropower generation, flood risk management, navigation, and municipal and industrial water supply.
BPA markets and distributes power generated at these 14 federal projects on the Columbia River and its tributaries. Transmission facilities owned and operated by BPA interconnect and integrate electric power generated at the federal projects to the regional transmission grid.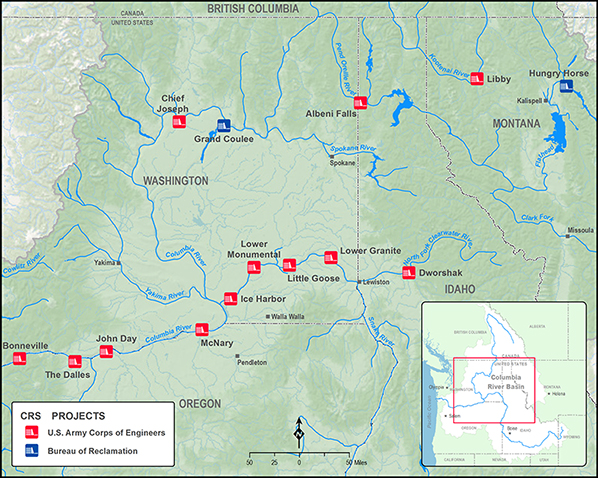 The 14 federal multiple purpose dams and related facilities are operated as a coordinated system within the interior Columbia River Basin in Idaho, Montana, Oregon, and Washington.
---
Technical Management Team
The Technical Management Team (TMT) is an interagency technical group comprised of sovereign representatives responsible for making in-season recommendations to the Action Agencies on dam and reservoir operations in an effort to meet the expectations of the applicable biological opinion and accommodate changing conditions, such as water supply, fish migration, water quality and maintenance issues. The TMT consists of representatives from the Action Agencies, NOAA Fisheries, US Fish & Wildlife Service (USFWS), the states of Oregon, Washington, Idaho, and Montana, and Tribal sovereigns.
Each year the Action Agencies prepare a water management plan (WMP) consistent with the current NOAA Fisheries BiOp. This WMP describes the planned operations of the FCRPS dams and reservoirs for the water year (October 1 through September 30). The WMP implements water management measures consistent with actions considered in the current biological opinion. The operations are designed to:
Assist in meeting the biological performance standards to ensure adequate water is available for juvenile fish migrations as specified in the biological opinion in combination with other actions.
Meet non-biological opinion related requirements and purposes such as flood control, spill operations affecting water levels of total dissolved gas, hydropower operations that ensure safety, irrigation and water storage, navigation, recreation, and fish and wildlife not listed under the Endangered Species Act.
Additional information regarding Columbia River flood control information may be found at: http://www.nwd.usace.army.mil/Missions/WaterManagement/ColumbiaRiverBasin/ColumbiaRiverFlood Control.aspx
---
Columbia River System Operations (CRSO) NEPA Process
In accordance with the National Environmental Policy Act, the U.S. Army Corps of Engineers, Bureau of Reclamation, and Bonneville Power Administration, referred to as the Action Agencies, intend to prepare an environmental impact statement (EIS) on the Columbia River System operations and configurations for 14 federal projects in the interior Columbia Basin.
In this Columbia River System Operations EIS, the three agencies will present a reasonable range of alternatives for long-term system operations and evaluate the potential environmental and socioeconomic impacts on flood risk management, irrigation, power generation, navigation, fish and wildlife, cultural resources and recreation. The Action Agencies will serve as joint-lead agencies in developing the EIS.
Additional information concerning the CRSO NEPA Process: www.crso.info
---
Water Operations
Monitoring is essential to decision making; Reclamation managers monitor current weather and water conditions to make decisions for the operation of facilities within its jurisdiction. Several networks and numerous recording stations are constantly monitoring water conditions, recording information, and transmitting details to computer systems read by a myriad of water and land management entities across the West. AgriMet and Hydromet are two of the main monitoring systems that Reclamation uses to inform river and reservoir operations decisions.
---
Related Links
Columbia River System Operations
Technical Management Team
Reclamation Pacific Northwest Water Operations
Upper Snake Flow Augmentation Reports
VARQ (variable discharge, or "variable Q")


---
Contact
Eric Rothwell
Hydrologist
erothwell@usbr.gov
Bureau of Reclamation
Columbia-Pacific Northwest Region
1150 N Curtis Road, Suite 100
Boise, Idaho 83706
Last Updated: 10/13/23