Columbia Basin Fish Accords
Federal Columbia River Power System
Columbia Basin Fish Accords
FCRPS Home | Hydrosystem | Hatcheries | Tributary Habitat Program | Tributary Habitat RME | Fish Accords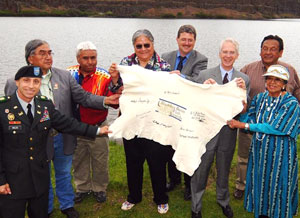 BPA, USACE, and Reclamation (also known as the FCRPS Action Agencies) and the Confederated Tribes of the Warm Springs Reservation of Oregon, the Confederated Tribes of the Umatilla Indian Reservation, the Confederated Tribes and Bands of the Yakama Nation, and the Columbia River Inter-Tribal Fish Commission (collectively known as the Fish Accord Fish Accord PartnersPartners) entered into a Memorandum of Agreement in 2008 to address direct and indirect effects of construction, inundation, operation and maintenance of the FCRPS and Reclamation's Upper Snake projects on fish resources of the Columbia River Basin.
The Action Agencies and the Fish Accord Partners intend the agreement to:
resolve issues between the Fish Accord Partners regarding the Action Agencies' compliance with the Endangered Species Act at FCRPS and Upper Snake projects
resolve issues between the Fish Accord Partners and the Action Agencies regarding compliance with the Pacific Northwest Electric Power Planning and Conservation Act and the Clean Water Act
address the Fish Accord Partners' and the Action Agencies' mutual concerns for certainty and stability in the funding and implementation of projects for the benefit of fish affected by the FCRPS and Upper Snake projects, affirming and adding to the actions proposed in the FCRPS and Upper Snake Biological Opinions
foster a cooperative and partnership-like relationship in implementation of the mutual commitments in the Agreement
Reclamation's Fish Accord activities and partnerships are described below.
More information about the Columbia Basin Fish Accords >>
---
Lamprey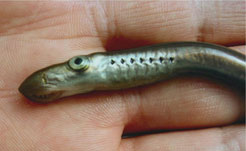 Pacific lamprey (Lampetra tridentata) are a resource of great significance and importance to Tribes in the Pacific Northwest, serving both as a traditional and ceremonial food source, and as medicine for tribal members. Pacific lamprey also provide numerous ecologically important benefits to aquatic ecosystems, such as a food source for juvenile salmon, birds, and mammals, and historically were a source of marine-derived nutrients that helped sustain aquatic and terrestrial ecosystems.
In addition to the implementation and funding of fisheries and habitat-related actions to improve fish survival under the Fish Accords, Reclamation undertakes additional actions specifically for the benefit of Pacific lamprey. In the Fish Accords, Reclamation agreed to identify Reclamation projects in the Columbia River Basin that may affect lamprey, investigate potential effects, and, where appropriate, make recommendations for either further study or for actions that may be taken to reduce effects on lamprey with the priority focus on the Umatilla and Yakima basin projects.
Reclamation's "Assessment of Bureau of Reclamation Projects in the Columbia River Basin: Effects on Pacific Lamprey" documents the activities undertaken to satisfy the Fish Accords commitment to identify Reclamation projects that may affect Pacific lamprey, investigate potential effects, and make recommendations for further study or actions.
Reclamation has either been involved in or supported a number of studies and activities to further define and/or address lamprey issues as recommended by the Assessment. Background information, activity updates, and future plans are summarized in Reclamation's Pacific Lamprey 2011 Annual Report and 2012 Plan.
Activities in 2012 are summarized in Reclamation's Pacific Lamprey 2012 Annual Report and 2013 Plan. Where available, updated reports are attached as appendices. These include:
Attachment A: Identification of low-elevation impediments to adult Pacific lamprey (Lampetra tridentata) migration in the Umatilla River, Oregon and installation of aids to lamprey passage, 2012
Attachment B: Presence of Early Life-Stages of Pacific Lamprey Above and Below Water Intake Screens in Bureau of Reclamation Canals in the Umatilla River Basin: Year 2
Attachment C: Passage of Radio-tagged Adult Pacific Lamprey at Yakima River Diversions - 2012 Annual Report
Attachment D: Assessment of lamprey presence in irrigation diversions and canals in the Yakima Basin
---
John Day
The Confederated Tribes of Warm Springs have provided successful leadership in developing and implementing stream habitat improvement projects that benefit salmon and steelhead in the John Day Basin. Under the FCRPS BiOp and associated Fish Accords, Reclamation has furthered its long term partnership with the Tribes by providing technical assistance in support of the stream habitat improvement projects.
---
Salmon Creek, Okanogan Basin Water Acquisition
Salmon Creek in Washington was historically-renowned for an abundance of salmon and steelhead. Diversion of water for irrigation in Salmon Creek and other activities through the Columbia River Basin since the early 1900s reduced the capacity of Salmon Creek steelhead to reproduce in former numbers and led to the extirpation of Salmon Creek Chinook Salmon.
In a continuing effort to reverse the effects of these past activities on federally-listed and depressed anadromous fish, the Confederated Tribes of the Colville Reservation (Colville Tribe) signed a Memorandum of Understanding in 2006 with the Okanogan Irrigation District (OID) to provide 700 acre feet annually for fish passage from the mouth of Salmon Creek to upstream of the OID's diversion dam.
The Colville Tribes' Salmon Creek Project is directed at improving migration conditions in this productive tributary of the Okanogan River. Adding stream flows when fish return to spawn results in increased number of steelhead accessing the high quality habitat that exists in Salmon Creek thereby increasing natural production of endangered Upper Columbia River steelhead.
This project is related to the Chief Joseph Hatchery Project, as Salmon Creek will provide the primary habitat in the Okanogan Basin for reintroduction of Upper Columbia spring Chinook. The long-term objective of the Tribe is use of about 3,500 acre feet of water annually to allow natural production of both Upper Columbia steelhead and Upper Columbia spring Chinook in Salmon Creek.
Under the 2008 Fish Accord, Reclamation provides funding to increase stream flow by another 500 acre feet annually bringing the total annual streamflow enhancement to 1,200 acre-feet through 2018. This water will aid Upper Columbia steelhead migration and reintroduction of Upper Columbia spring Chinook in Salmon Creek.
---
Contact
Public Affairs Office
gen-pnr-pninfo@usbr.gov
(208) 378-6203
Bureau of Reclamation
Columbia-Pacific Northwest Region
Columbia/Snake Salmon Recovery Office
1150 N Curtis Road, Suite 100
Boise, Idaho 83706
Last Updated: 9/30/20