Boca Dam (LBAO)

Project Status
Temporary road closure for Boca Dam improvements began May 1, 2019.
For more information, click HERE.
click map to enlarge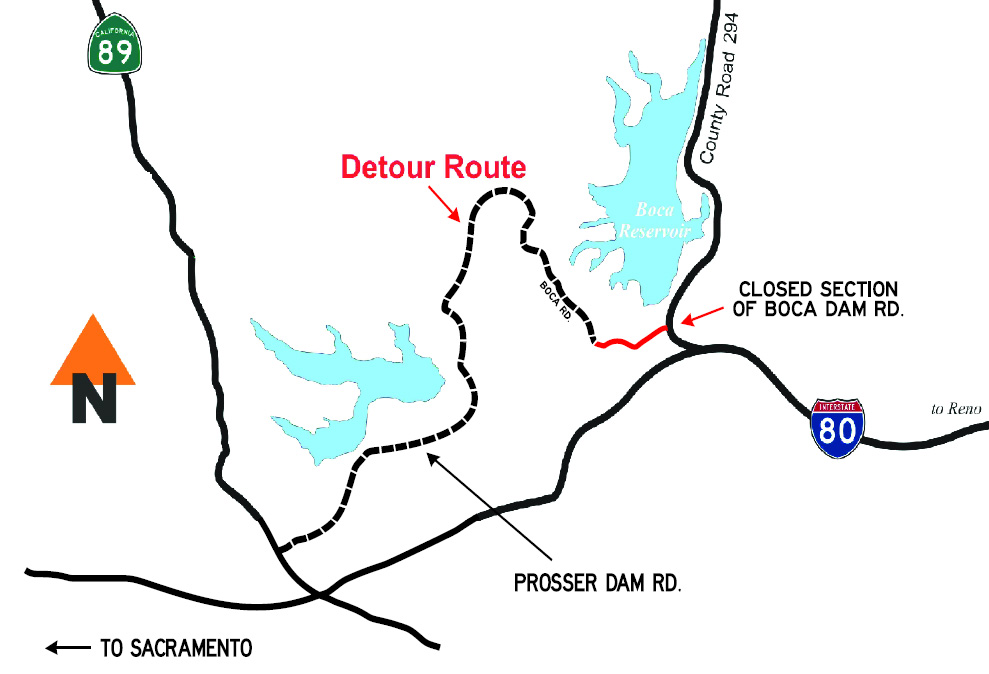 In May 2019, Reclamation began modifying Boca Dam for resisting seismic loads due to earthquakes. The project is scheduled for completion in October 2020 with construction temporarily shutting down during the 2019/2020 winter. Boca Dam is located six miles northeast of Truckee, California.
During the project, Stampede Meadows Road will remain open with traffic controls. The road over Boca Dam will be closed during the construction period but alternative routes are available for the public to reach recreational sites. Use caution when traveling in this area during construction.
To facilitate construction, the reservoir will operate lower during the summer and fall of 2019 to around half the capacity, which is about 28 feet lower than the maximum water level. A portion of the lake's east side shoreline will be closed in the fall of 2019.
Please direct project related questions to the Mid Pacific Construction Office at 530-892-6262 (TTY 800-877-8339) or
sha-wco-cfiles@usbr.gov.
Background
Boca Dam and Reservoir are components of the Truckee Storage Project, completed in 1937 by the Bureau of Reclamation and since operated and maintained by the Washoe County Water Conservation District.
Based upon extensive engineering analysis, Reclamation has found that Boca Dam and Dike is at risk from structural failure during an earthquake due to the presence of sand and gravel within the dam's foundation. During an earthquake, the dam has the potential to slump or crack (seismic induced liquefaction) leading to overtopping or a breach, as illustrated in the below figure.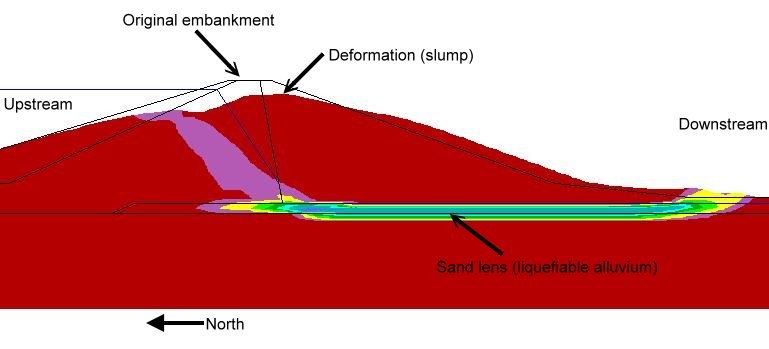 Profile of dam deformation during an earthquake
The Safety of Dams Act requires Reclamation to reduce the risk of Boca Dam structural failure within acceptable levels. The modification to Boca will include removing a sand and gravel lens on the downstream side of the dam; a downstream stability berm will be constructed to buttress the dam in the event of an earthquake as illustrated below.

Profile of modified dam
The spillway will also be seismically retrofitted and the dam crest will be 25 feet wider with a reinforced concrete road surface.
The earthen material for the stability berm will be sourced from a borrow area within the reservoir and will be hauled to the dam via Stampede Meadows Road. To allow access to the borrow area, the reservoir will be operated lower during the summer of 2019. In accordance with the National Environmental Policy Act and the California Environmental Quality Act, Reclamation has coordinated with the Lahontan Water Board and developed an Environmental Assessment/Initial Study to describe the project and impacts. The document is available at: https://www.usbr.gov/mp/nepa/nepa_projdetails.cfm?Project_ID=27372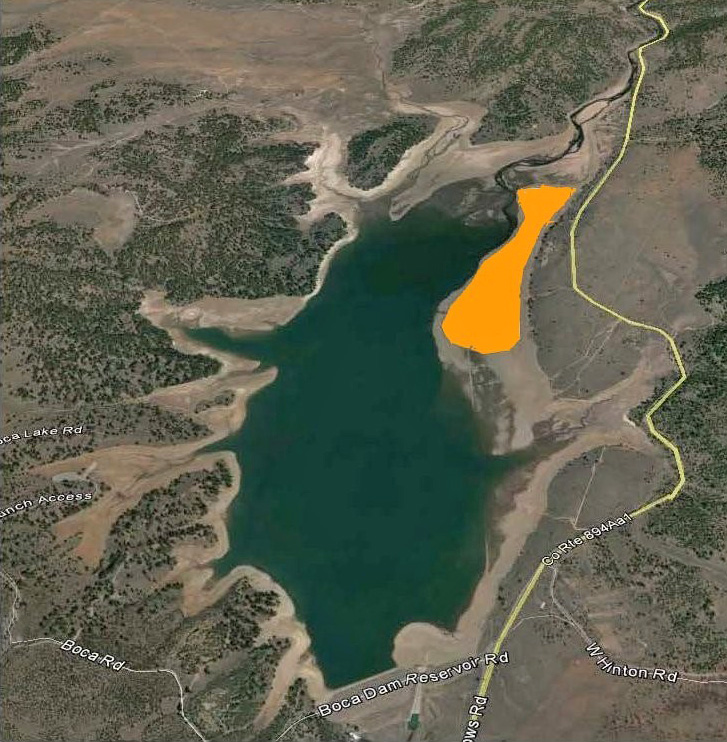 Aerial view of in-reservoir borrow area
Last Updated: 5/3/19