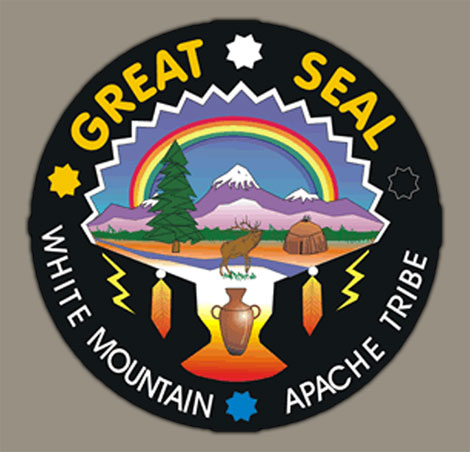 The great seal of the White Mountain Apache Tribe.
The U.S. Senate has approved a water settlement with the White Mountain Apache Tribe in Arizona. More than $126 million was authorized for development of a rural water system, including a dam and reservoir, to deliver the water. The measure, which passed on a unanimous vote Friday, November 19, 2010, sets aside 52,000 acre‐feet of water to settle claims with the tribe. The final bill, known as the Claims Resolution Act of 2010, was signed into law by President Barack Obama on December 8.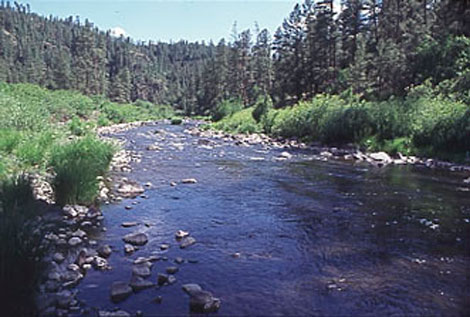 The Black River is a boundary between the White Mountain Apache Reservation and the San Carlos Apache Reservation. Photo courtesy of the Arizona Game and Fish Department.
Under terms of the deal, the tribe agrees to lease Central Arizona Project water it has been allocated as a part of the settlement to cities in the metropolitan Phoenix area. A little over half the water --27,000 acre‐feet --will come from the Salt and Little Colorado River watersheds (an acre‐foot is 325,851 gallons, enough to serve two average households for one year). The headwaters of both rivers are located on or near the Fort Apache Reservation, home to the White Mountain Apache tribe. "It resolves tribal water claims and provides certainty to water users in the state of Arizona regarding their future water supplies," said Sen. Jon Kyl, R‐Ariz., who helped negotiate the deal.
Much of the water was originally authorized in the landmark 2004 Water Settlement Act, which also resolved water rights claims of the Gila River Indian Community and the Tohono O'Odham Nation. That measure set aside water for future Indian settlements in Arizona. With the signing of this law, the White Mountain Apache Tribe is now closer to seeing a drinking water project come to fruition.
More Information:
http://www.gpo.gov/fdsys/pkg/BILLS-111hr4783enr/pdf/BILLS-111hr4783enr.pdf
http://kyl.senate.gov/record.cfm?id=307418
http://www.bia.gov/idc/groups/public/documents/text/idc012234.pdf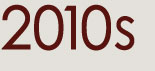 PROJECTS
One "Drop" at a Time
WATER USES
Phoenix Metropolitan Water Reclamation and Reuse Project
LEGISLATION
White Mountain Apache Tribe Settles Water Claim
ENVIRONMENT
Southwest Climate Science Center Announced
PEOPLE
Kenneth Salazar to Lead Department of Interior