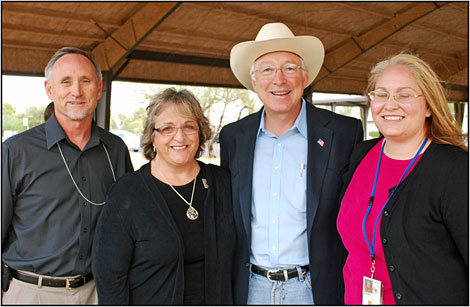 Secretary of the Interior Ken Salazar traveled to Tempe, Ariz. In October 2010, where he announced the establishment of a regional Climate Science Center to be located at the University of Arizona. Pictured with the Secretary are staff of Reclamation's Phoenix Area Office, left to right, Area Manager Randy Chandler; Public Affairs Officer Patricia Cox; Secretary Salazar; Acting Deputy Area Manager Roxanne Peterson.
At a meeting of water leaders from the seven Colorado River Basin states in Phoenix on October 20, 2010, Secretary of the Interior Ken Salazar announced that the Department of the Interior has chosen the University of Arizona as the home base for a regional Climate Science Center.
"The Colorado River Basin is ground zero for assessing the effects of climate change on our rivers and taking creative management actions to head off the related dangers posed to our water supplies, hydroelectric power generation and ecosystems," the Secretary said. "We are with you for the long haul to protect our region and its water."
The Southwest Climate Science Center is the fourth of eight planned regional Climate Science Centers—or CSCs—to be established by the Department of the Interior. With the University of Arizona as home base, the center will be led by a consortium of that school and others: University of California, Davis; University of California, Los Angeles; Desert Research Institute, Reno; University of Colorado, Boulder; and the Scripps Institution of Oceanography at the University of California, San Diego. The Southwest Climate Alliance also includes other partners: Arizona State University; Northern Arizona University; University of California, Merced; University of Nevada, Las Vegas; NASA Ames Research Center, Calif.; and the U.S. Institute for Environmental Conflict Resolution, Tucson.
"The consortium headed by the University of Arizona brings a wide range of scientific and impact assessment capabilities to the Southwest Climate Science Center because it includes institutions located in and familiar with the incredible diversity of ecosystems and human settlements and activities that characterize the U.S. Southwest," the Secretary noted. The consortium is well versed in issues such as coastal management, drought and its impacts on people and the environment, water management in the Colorado and other Southwest rivers, and the impacts of exploding populations of bark beetles on western forests.
The Southwest Climate Science Center and seven other CSCs will serve as regional "hubs" of the National Climate Change and Wildlife Science Center, located at the headquarters of Interior's U.S. Geological Survey. USGS is taking the lead on establishing the CSCs and providing initial staffing. Ultimately, funds and staff from multiple Interior bureaus will be pooled to support these centers and ensure collaborative sharing of research results and data. Together, the CSCs and Landscape Conservation Cooperatives will assess the impacts of climate change that typically extend beyond the borders of any single national wildlife refuge, national park or Bureau of Land Management unit and identify strategies to ensure that resources across landscapes are resilient.

In addition to the climate center announcement, the Secretary told water leaders that today's meeting also marked the launch of the Colorado River Basin Geographic Focus Study by the U.S. Geological Survey (USGS)—Interior's scientific experts. The study is part of the WaterSMART Water Availability and Use Assessment for the Colorado River Basin. It is planned as a three-year, $1.5 million effort that will provide an inventory of water supply and demand, including water needed to support ecosystems, and report on significant competition over water resources and the factors causing that competition. (The "SMART" in WaterSMART stands for "Sustain and Manage America's Resources for Tomorrow.")


"You can't manage a resource that you don't measure," Salazar said. "The WaterSMART initiative is all about measuring our water supplies and how we use them. This water census will provide crucial information to water managers to improve our efforts to wisely balance competing demands."
How Will Reclamation Be Involved in WaterSMART?
The U.S. Bureau of Reclamation, along with other scientific partners, is researching ways to adapt to the looming effect of climate change. In particular, Reclamation wants to understand the impact it will have on our water sources.
What is Climate Change?
Climate change is affecting every corner of the American continent. In Arizona and other southwestern states; it is making droughts drier and longer.
Climate change is a long-term change in the statistical distribution of weather patterns over periods of time that range from decades to millions of years. It may be a change in the average weather conditions or a change in the distribution of weather events with respect to an average, for example, greater or fewer extreme weather events.
What Causes Climate Change?
Factors that can shape climate are called "climate forcings." These include variations in solar radiation, deviations in the Earth's orbit, mountain-building and continental drift, and changes in greenhouse gas concentrations, including those from human impact. Climate change may dramatically affect water supplies in certain watersheds, impact coastal wetlands and barrier islands, cause relocation of and stress on wildlife, increase wildland fires, further spread invasive species, and more. The impacts of climate change are forcing us to change how we manage our natural resources.
During the current climate change, our planet is getting warmer. The global temperature record shows an average warming of about 1.3 °F over the past century. According to the National Oceanic and Atmospheric administration (NOAA), seven of the eight warmest years on record have occurred since 2001. Within the past 30 years, the rate of warming across the globe has been approximately three times greater than the rate over the last 100 years. The Intergovernmental Panel on Climate Change (IPCC) concluded that warming of the Earth's climate system is now "unequivocal" (i.e., FACT). The IPCC bases this conclusion on observations of increases in average air and ocean temperatures, melting of snow and ice, and average sea level across the globe.
In a warming climate, extreme events like floods and droughts are likely to become more frequent which can affect water quality and availability. For example, increases in drought in some areas may increase the frequency of water shortages and lead to more restrictions on water usage. While an overall increase in precipitation may increase water availability in some regions, it can also create greater potential for floods.
These objectives are to
Better understand and assess the impacts of climate change on water and water dependent resources.
Enable water resource managers to adapt to climate driven impacts.
Their intention is to collect data that will improve our ability to adapt to climate-driven impacts, including developing new and better ways to:
Conserve water
Forecast water supplies
Manage water to meet multiple purposes
Expand water supplies
Provide reliable, efficient, and environmentally responsible hydropower generation, and water storage and delivery infrastructure
Integrate renewable energies into our workflow processes
More Information:
http://www.doi.gov/whatwedo/climate/index.cfm
http://www.doi.gov/news/pressreleases/Secretary-Salazar-Launches-New-Regional-Climate-Science-Center-and-Water-Census-at-Meeting-of-Colorado-River-Basin-Water-Leaders.cfm
http://www.usbr.gov/WaterSMART/
http://www.usbr.gov/research/climate/index.html
http://www.epa.gov/climatechange/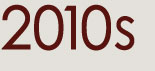 PROJECTS
One "Drop" at a Time
WATER USES
Phoenix Metropolitan Water Reclamation and Reuse Project
LEGISLATION
White Mountain Apache Tribe Settles Water Claim
ENVIRONMENT
Southwest Climate Science Center Announced
PEOPLE
Kenneth Salazar to Lead Department of Interior