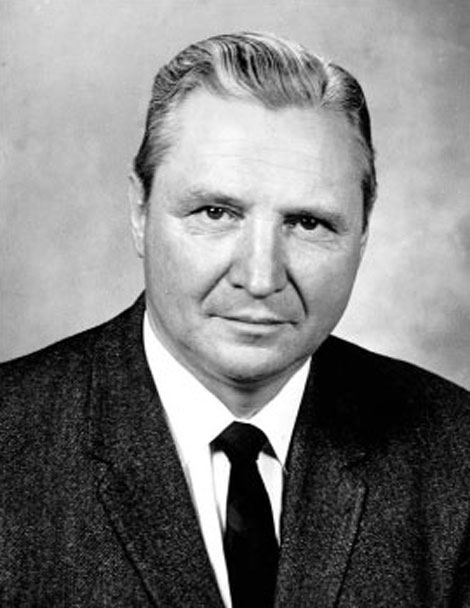 Floyd Dominy, Commissioner Of Reclamation, 1959-1969. Reclamation photograph.
Floyd Dominy is easily the most colorful Commissioner in Reclamation's history and one of its longest serving. Dominy served as Reclamation Commissioner from 1959 to 1969, under Presidents Eisenhower, Kennedy, Johnson, and Nixon.
Contemporaries say Dominy wielded more influence on Capitol Hill than any Secretary of the Interior. He was a subject in two influential books focusing on water in the West: Marc Reisner's Cadillac Desert and John McPhee's Encounters with the Archdruid.
Dominy's famous debate with Sierra Club president David Brower, which took place on a raft trip down the Colorado River and was immortalized in McPhee's book, was recreated at a Colorado River Water Users' conference in Las Vegas. Unfortunately, Mr. Brower was ill and unable to attend, but Mr. Dominy delighted the crowd, remaining as cantankerous as ever.
Born in 1909 and raised on a Nebraska farm, Dominy grew up realizing the importance of irrigation west of the hundredth meridian. He received his Bachelor of Arts degree in Agricultural Economics from the University of Wyoming in 1932. After college, Dominy worked as a teacher, agricultural agent and Assistant Director of the Food Supply Division in the Agricultural Administration in Washington, D.C. He joined Reclamation in 1946 as a land settlement specialist, and supervised the Allocations and Repayment Branch, Division of Irrigation between 1950 and 1957.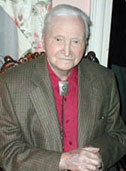 Dominy rose to Assistant Commissioner from 1957 to 1958, and eventually assumed the Associate Commissioner's job from 1958 to 1959. Dominy took control of the Commissioner's office on May 1, 1959. Notable events during his term as commissioner include completion of Glen Canyon, Flaming Gorge, and Navajo Dams on the Colorado River Storage Project. Dominy also played a role in the authorization and initiation of construction of San Luis Unit and pushed for the completion of the Trinity River Division, Central Valley Project.
Dominy retired from Reclamation in 1969. He passed away in April, 2010, at the age of 100. Commissioner Michael Connor said, "This is definitely the end of an era. His was a life full of great accomplishments and he will definitely be missed."
Sources:
http://www.usbr.gov/newsroom/newsrelease/detail.cfm?RecordID=32289
http://www.usbr.gov/history/CommissBios/dominy.html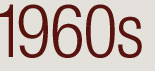 PROJECTS
Construction of Glen Canyon Dam is Completed
WATER USES
Water Uses In 1960s Arizona
LEGISLATION
Supreme Court Clears the Way for the Central Arizona Project
ENVIRONMENT
The National Historic Preservation Act
PEOPLE
Floyd Dominy, Commissioner of Reclamation