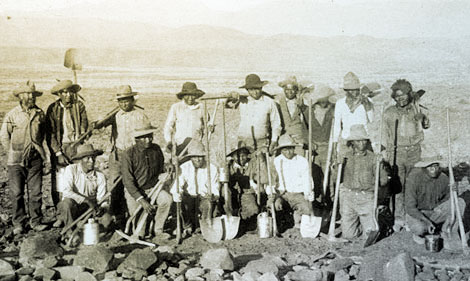 American Indian laborers were hired by Reclamation Service Chief Engineer Lewis Hill. San Carlos and other Western Apache tribes supplied the bulk of the work force for Roosevelt Dam road construction and other infrastructure needs, 1906. (Reclamation photograph)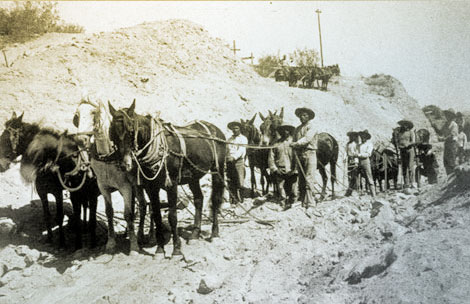 Apache workers on the cutoff canal, Roosevelt Dam site, 1909. (Reclamation photograph)
Construction of Roosevelt Dam was a logistical nightmare because the site was so remote—nearly 60 miles from Mesa and 40 miles from the copper mining town of Globe. Although dam construction commenced on August 24, 1903, a supply/construction road first had to be built, along an old Indian pathway, in order to haul men, equipment, building materials, and supplies from Mesa to the dam site. The route presented challenges due to steep gradients and narrow right-of-ways; challenges that required more money than originally thought. Through special bond issues authorized by the Congress, Salt River Valley towns were able to bond themselves and borrow money to complete the road.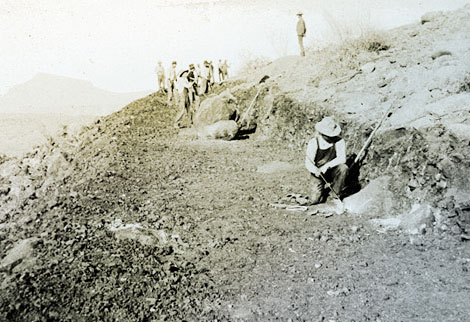 Apache road crew working on the road between Globe and Roosevelt, 1904. (Reclamation photograph)
Apache Indians from the San Carlos Reservation provided the bulk of the labor for road construction. While there was initial skepticism about their ability to do the difficult road work, they soon demonstrated that they were up to the task. Louis Hill, Supervising Engineer, first said they were undernourished and too weak to work hard. He paid them only $1.50 per day ($2.00 was the average) until they became stronger. But it was not long before he rated Apache workmen above Mexican and Anglo workers. The Apache workmen lived apart from the other construction crews (who also lived in separated camps) and often had their wives and children living with them. Their talent and skill for building with dry-laid masonry resulted in a road bed that endures and portions of which can be seen today.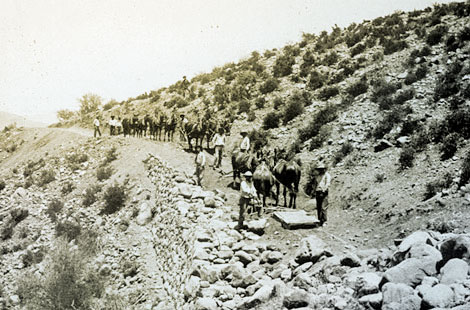 Apache teamsters placing fill on the new Tonto Highline Road. Note the dry-laid masonry retaining wall. (Reclamation photograph)
The new, 64-mile-long road was finished in December 1904, at a cost of over $200,000. Apache workers also built a sawmill road in the Sierra Ancha Mountains where lumber for construction of the dam was cut and milled, as well as new roads toward Globe and Payson. By the time Roosevelt Dam was finished in 1911, nearly $500,000 was spent building 112 miles of roads to the dam site at a cost of roughly $4,500 per mile. Today, this road is known as the Apache Trail.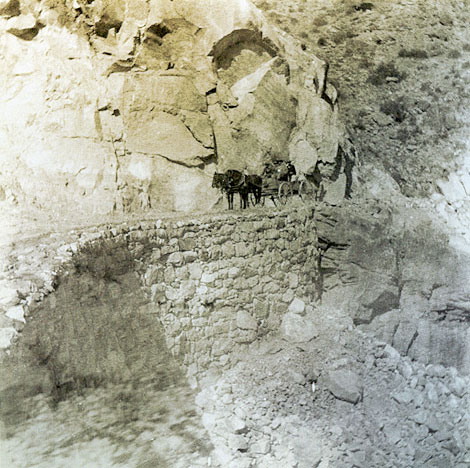 Apache workers were known for their skill in building dry-laid stone walls. Without using mortar, they constructed many such retaining walls along the various roads they built. This fine example is on Fish Creek Hill on the Mesa to Roosevelt Road, known today as the Apache Trail, 1905. (Courtesy of Salt River Project)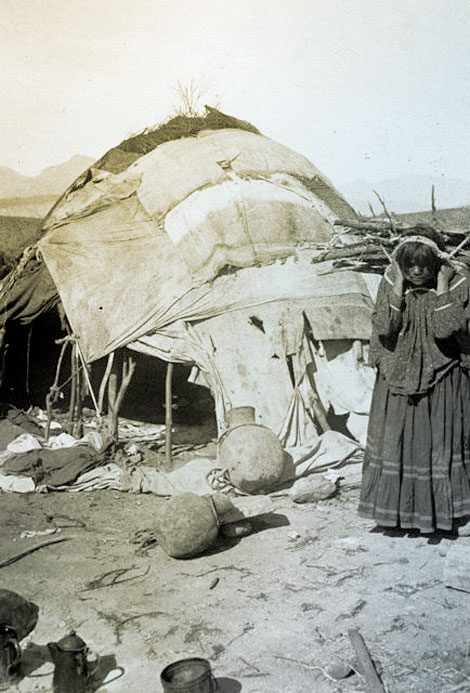 Apache workers often brought their families to live with them. They lived in a segregated area and maintained their traditional lifestyle. Here an Apache woman brings firewood to her wickiup, a structure of bent poles covered with brush that is also covered with blankets, tarps, and hides. Note the use of large ceramic storage jars and metal pots and pans, 1911. (Reclamation photograph)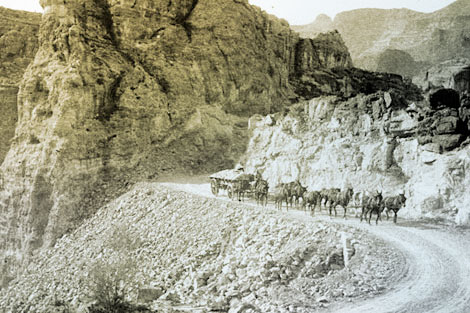 A portion of Mesa to Roosevelt Road at Fish Creek Hill. Note the extensive road work required to cut through the mountain and provide fill for a stable road bed. American Indians, primarily Apaches, constructed over 100 miles of roads to provide access for men, equipment, and supplies to the dam site, 1905. (Reclamation photograph)
Adapted from Historical Archaeology of Dam Construction Camps in Central Arizona, Volume 1: Synthesis, prepared by A.E. Rogge, Melissa Keane, and D. Lorne McWatters. Dames and Moore Intermountain Cultural Resource Services Research Paper No. 10. Dames and Moore, Phoenix, 1994.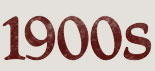 PROJECTS
The Salt River Project
The Reclamation Service's Yuma Project
WATER USES
LEGISLATION
The Birth of the United States Reclamation Service
ENVIRONMENT
PEOPLE
The Wagon Masters
Building the Apache Trail