SOUTH DAKOTA
Butte County
BELLE FOURCHE DAM (ORMAN DAM)
Owl Creek
East of Belle Fourche off U.S. 212
National Register 11/23/1977
Belle Fourche Dam is a principal feature of the Belle Fourche Project, which was among the first irrigation projects constructed under the Reclamation Act of 1902. The primary purpose of the dam is to store water for agricultural use downstream in the general vicinity of Newell, Vale, and Nisland, South Dakota. The dam is a massive homogeneous earth-fill structure with a crest length of 6,262 feet. When completed in 1911, the dam was the largest of its type in the world. In April 1989, Belle Fourche Dam was designated a National Historic Civil Engineering Landmark.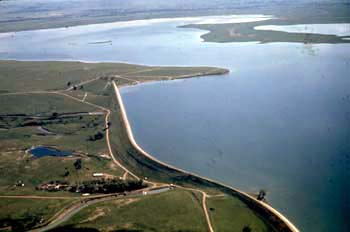 Belle Fourche Dam (Orman Dam)
BELLE FOURCHE DITCHRIDER'S HOUSE
½ Mile east of the town of Nisland immediately north of US Highway 212
National Register 1/31/02
This small one-story frame cottage is one of eleven ditchriders' houses that were constructed on the Bureau of Reclamation's Belle Fourche Project. Built in 1916, the house is significant for its association with ditchriders, key players in the successful operation of irrigation projects. The primary duties of ditchriders were, and in many places still are, to monitor the condition of canals and ditches and control the amount of water delivered to farmers. Ditchriders houses were built at convenient locations along canals and laterals to facilitate work within the irrigation project.

Return to National Register Properties Map
Last Updated: 7/24/15