Cultural Resources Management
Recognized as a leader of water development projects in the Western States, the Bureau of Reclamation (Reclamation) has also contributed significantly to our knowledge of the nation's prehistory and history. Archaeological sites, historic buildings and structures, landscapes, and objects are the fabric of our national heritage. Collectively known as cultural resources, they are our tangible links with the past. As an agency of the Federal government, Reclamation is responsible for protecting and managing these irreplaceable resources in a spirit of stewardship for future generations. A Cultural Resources Management (CRM) program was established at Reclamation in 1974 to manage the rich array of cultural resources under its jurisdiction. Since then, the program has expanded significantly as cultural resource laws, requirements, and public concerns continue to increase and become more complex. The Federal Preservation Officer, located in Denver, coordinates Reclamation's CRM program with many responsibilities delegated to regional and area office staff. These include professional archaeologists, historians, architectural historians, museum specialists, and physical anthropologists. If you have questions relating to Reclamation's cultural resources, please feel free to contact any one of our staff.
---
News and Announcements
NEWS RELEASE

Reclamation seeks to streamline National Historic Preservation Act compliance for water delivery structures

Washington, D.C. - The Bureau of Reclamation is taking steps to simplify cultural resources compliance on canals and ditches. Reclamation is requesting that the Advisory Council on Historic Preservation , which oversees the federal historic preservation process, grant a "program comment" to document the historic significance of water distribution systems as a whole, instead of on a case-by-case basis. Read More →

Click here for link to FactSheet 1.

● Click here for link to join webinar for September 9, 2020, 1:00 P.M. Mountain Time.

● Click here for link to join webinar for September 16, 2020, 12:00 P.M. Mountain Time.

● Click here for link to join webinar for September 24, 2020, 9:00 A.M. Mountain time.
Click
here
for list of proposed actions and features for program comment.
National Register Addition
Columbia Basin Project Irrigation Division Headquarters Office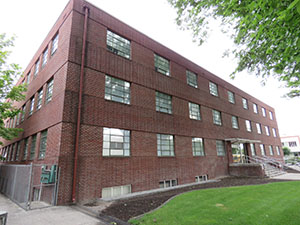 The Columbia Basin Project Irrigation Division Headquarters Office located in Ephrata, Grant County, Washington, was placed on the National Register of Historic Places (National Register) on June 21, 2019. Completed in 1951, the office served as the home for the centralized administrative operations of the Columbia Basin Project and Grand Coulee Dam. Serving a nine-county area, the Columbia Basin Project was a major twentieth century Bureau of Reclamation undertaking, directly responsible for aiding in the transformation of the Columbia Plateau into one of Washington State's most productive agricultural regions. The office currently serves as the Ephrata Field Office for the Columbia-Pacific Northwest Region of the Bureau of Reclamation.
Last Updated: 9/2/20