COLORADO
Mesa County
GRAND VALLEY DIVERSION DAM
Across Colorado River 8 miles northeast of Palisade
National Register 10/08/1991
The Grand Valley Diversion Dam, which straddles the Colorado River near Grand Junction, was constructed between 1913 and 1916 as a key feature of the Bureau of Reclamation's Grand Valley Irrigation Project. The dam also has engineering significance; it established the basic form for American roller gate dams and is the largest roller gate dam in the country.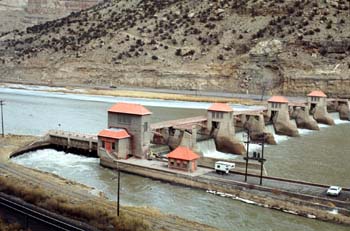 Grand Valley Diversion Dam
Montrose County
DENVER AND RIO GRANDE RAILROAD (D&RG) NARROW GAUGE TRESTLE
Cimarron vicinity
National Register 6/18/1976
This property is the single remaining span of what was originally a four-span narrow gauge railroad trestle bridge (Bridge 259) across the Cimarron River just upstream of its confluence with the Gunnison River. It was one of three D&RG bridges built across the Cimarron within Black Canyon. Construction of the D&RG was an important event in the historical development of the Gunnison River region, providing linkage with a transcontinental railway system. Built in the early 1880's, the bridge was 288 feet in length, with a 119-foot decked Pratt truss section and three girder spans resting on stone piers. The Pratt truss span still stands, with only two stone piers remaining from the girder spans. The National Register nomination form cites the bridge as "noteworthy because of its particular construction and workmanship, and because it also represents one of the last remnants of an engineering and construction feat of outstanding ingenuity and tenacity….Tied into this section of the Black Canyon route is the entire story of the dramatic race to find a way west...that ended only after major transcontinental routes were established." Most of the bridge was demolished by the Bureau of Reclamation while building the access road to the Morrow Point Dam.
GUNNISON TUNNEL
About 6.5 miles east of Montrose
National Register 7/22/1979
The Gunnison Tunnel is a key feature of the Bureau of Reclamation's Uncompahgre Irrigation Project. The tunnel was constructed to carry water from the Gunnison River to the Uncompahgre River. From there, water is diverted to irrigate agricultural lands in the vicinity of Montrose. When completed in 1909, the 6-mile long tunnel was a major engineering achievement and the longest irrigation tunnel in the world.

Celebration for completion of Gunnison Tunnel
US BUREAU OF RECLAMATION PROJECT OFFICE BUILDING
601 N. Park Ave. , Montrose
National Register 11/27/1991
The Project Office Building in Montrose was constructed as the headquarters for the Uncompahgre Irrigation Project, one of the first projects undertaken by the Bureau of Reclamation following its creation in 1902. The building has been in continuous use as the project headquarters since its completion in 1905. Designed in the Four Square Style, the building has architectural significance as a relatively rare example of the style applied to a non-residential property.

Montrose Project Office Building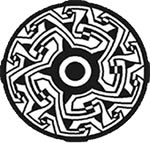 Return to National Register Properties Map
Last Updated: 7/22/15