---
Demonstration of Innovative Technologies
Irrigation Improvement Project, Area 3 - Sponsored by: Shiprock Soil and Water Conservation District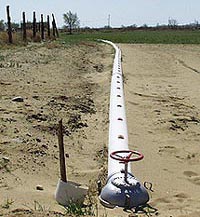 The Shiprock Soil and Water Conservation District, in partnership with the Navajo Irrigation Department, Navajo Department of Agriculture, Bureau of Indian Affairs, Shiprock Chapter and Area 3 Farmers, implemented various improved irrigation practices on a project area known as "Area 3". The project area was formerly large tracts of farmland that were leased to four indiviual farmers and then subdivided into 23 farm plots. The focus of the project was to assist farmers in improving on-farm irrigation and overall water management of "Area 3". The Water Conservation Field Services Program provided approximately 42% of the total cost for the demonstration project.
Information gained from field trials and testing provided the data needed to begin identifying the needs and capabilities of the system. As an educational aspect of this program, the information was used to train farmers on soil-plant-water relationships, documentation of measurements and changes, and use of irrigation methods. The long-term goal of the program is to establish a reasonably efficient manner of irrigation for "Area 3" to include, but not limited to: irrigation methods, water conveyance fee collection, enforcement of scheduling, and project administration.
Contact: Shiprock Soil and Water Conservation District, New Mexico (505) 368-5716; Bureau of Reclamation, Western Colorado Area Office, Durango (970) 385-6560.
Activities and Accomplishments



Last Updated: 4/5/17