---
Demonstration of Innovative Technologies
Drip Irrigation Project - Socorro Soil and Water Conservation District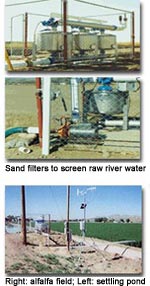 The Albuquerque Area Office provided funds and technical support to the Natural Resource Conservation District (NRCS), Middle Rio Grande Conservancy District, and the Socorro Soil and Water Conservation Distrcit for a research and demonstration drip irrigation project on an alfalfa field near Socorro, New Mexico. The drip irrigation system was installed on 41/2 acres on a farm belonging to Travis and Carlina Harris. Reclamation has provided funding for this project since 1998.
The drip irrigation tape used is 12 mils with emitter every 24 inch. The maximum flow rate through the tape is 4.0 gph. The tape is placed in the ground near the root zone of the alfalfa. Since raw water from the Rio Grande is being used, a settling pond and filters were installed to prevent sediment from plugging the system.
Contact: Socorro Soil and Water Conservation District (505) 835-1710.
Activities and Accomplishments



Last Updated: 4/5/17