Programs & Activities
Schaake Property Habitat Improvement Project
Yakima River Basin Water Enhancement Project
Home | Integrated Plan | 2010 Basin Study | 2009 Workgroup | IOP | Phase 1 | Phase 2 | Authorization
---
Schaake Property Habitat Improvement Project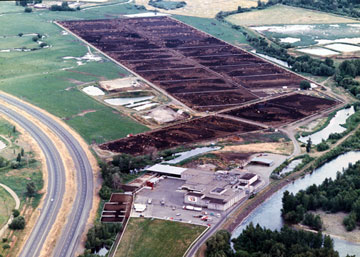 The purpose of the Yakima River Basin Water Enhancement Project (YRBWEP) is to protect, mitigate, and enhance fish and wildlife through improved water management; improved instream flows; improved water quality; protection, creation and enhancement of wetlands; and by other appropriate means of habitat improvement.
The Schaake property is located along the Yakima River, southeast of Ellensburg, WA. The Schaake Reach lies between the interstate (I-90) and the river south of Damman Road and is named for the former owner of the property.
Reclamation purchased the Schaake property in August 2003 because of the high potential for habitat improvement outlined in the Reaches Project (Stanford et al., 2002) to improve steelhead and salmonid habitat and to place additional riparian land into public ownership with increased public benefit. The property is approximately 285 acres and historically supported a slaughterhouse and stockyards that have now been removed. Approximately 80 acres of the property was leased to Twin City Foods for the application of their food processing wastewater onto grass hay. Reclamation has completed habitat improvement studies and soil and water quality studies (see links below) which present alternatives for restoring and enhancing fish and riparian habitat on the former Schaake property.
Reclamation has contracted with CH2M HILL for Phase 1 of the improvement project. Phase 1 will cover the work necessary to review the reports completed to date, determine additional evaluation and or modeling needed, including Wilson Creek. CH2M HILL will work with Reclamation, local, state, and federal agencies, Twin City Foods, public utilities, and adjacent landowners to develop alternatives and assist in the decision making process.
Reclamation and CH2M HILL will work to determine the future location of the left bank levee and establish requirements for side channel location, old side channel reinvigoration, channel stability, final habitat restoration designs, and revegetation designs and specifications.
Since 2007 Reclamation has been working with the Cascade Land Conservancy, the City of Ellensburg, Kittitas County, National Park Service, Washington Department of Fish and Wildlife, local landowners, and other agencies and entities to enhance and develop a Yakima River Trail. A portion of this trail system will go through Reclamation's Schaake property. Refer to the August 2009 report, Draft Concept Plan City-to-Canyon Trails.
---
Contact
Jeanne Demorest
(509) 575-5848 x287
jdemorest@usbr.gov
Bureau of Reclamation
Yakima River Basin Water Enhancement Project
1917 Marsh Road
Yakima, WA 98901-2058
Last Updated: 12/13/17