Anderson Ranch Dam Turbine Environmental Assessment
Anderson Ranch Turbine Modernization and Runner Replacement Project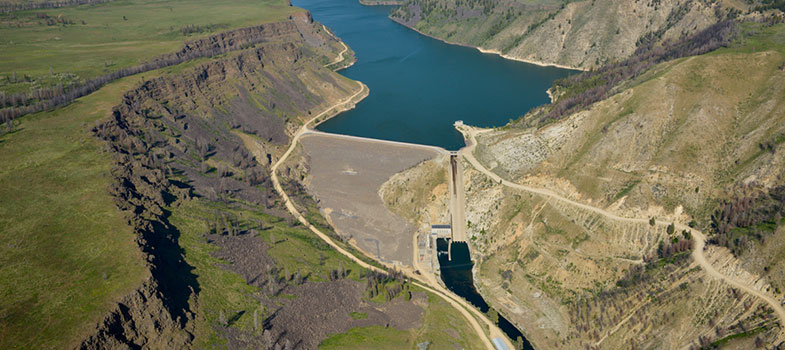 Anderson Ranch Dam is a two-unit, Francis turbine facility, originally installed in 1950 and 1951. The existing runners have been in service for more than 70 years. In 1986, units number 1 and 2 were upgraded to 20 megawatts from the original 13 MW.
Cracking on the runner buckets was first identified in 1993. In 2017, an increase in crack propagation was observed, and Reclamation imposed an operational limitation of no less than 50% gate opening in efforts to ward off additional propagation. The intent to replace unit number 2 runner in 2018 and unit number 1 runner in 2019 was stalled because of funding limitations.
Reclamation plans to perform construction activities necessary for the maintenance and rehabilitation of both turbine units at Anderson Ranch Dam. This project would include a baseline mechanical overhaul of new stainless-steel runners, new stainless-steel wicket gates, replacement of bushings, an inspection and refurbishment of all major components, and replacement of worn parts. These turbine unit components require replacement or repair before further deterioration compromises the integrity of the turbines.
The current project schedule estimates construction would begin Sept. 2025 to May 2026 for unit number 2. Overhauling unit number 1 would take place from Sept. 2026 to May 2027.
---
Contact
Rochelle Ochoa
Natural Resource Specialist
208-383-2277
rochoa@usbr.gov
Last Updated: 9/26/23