American Falls Dam Maintenance and Construction
American Falls Concrete Spillway Rehabilitation Project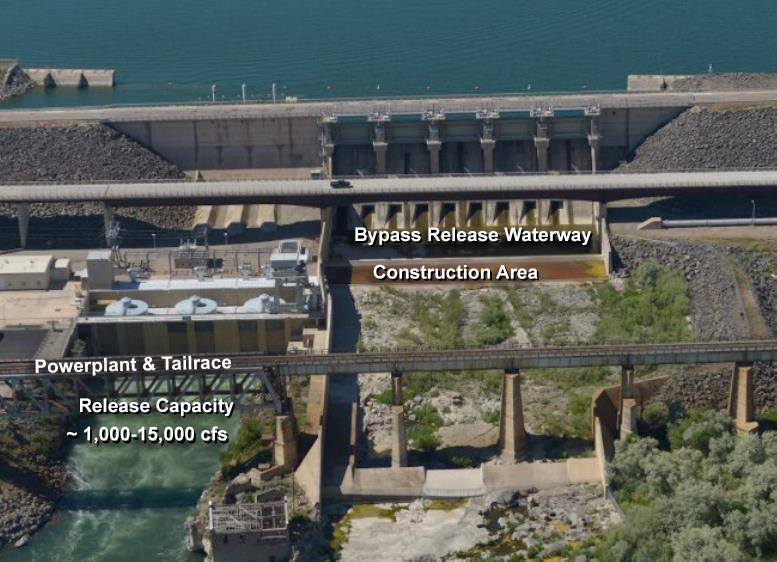 The American Falls Dam concrete spillway rehabilitation project construction activities completed in September 2022. Project closeout is ongoing.
American Falls Dam, a 94-foot-high composite concrete and earth gravity-type dam on the Snake River in Power County, near the town of American Falls, was undergoing a multi-year construction project that started in 2020. Construction activities addressed the need for rehabilitation and repair of the 44-year-old dam, which has experienced degradation over the years. Construction activities consist of the demolition, removal, and replacement of existing damaged concrete on the spillway face and dam face.
Flows resumed through the spillway in October and will continue until spring or summer 2023, depending on the water forecast and operations. Given its size and location relative to other Reclamation facilities located throughout the upper Snake River storage system, American Falls Reservoir is heavily relied upon for the delivery of water for irrigation purposes. American Falls Reservoir is typically full or near full, with water receding as the irrigation season progresses.
---
Contact
Nicole Carson
Project Manager
(208) 678-0461 x16
ncarson@usbr.gov
Bureau of Reclamation
Upper Snake Field Office
470 22nd. St.
Heyburn, ID 83336
Amy Goodrich
Natural Resource Specialist
agoodrich@usbr.gov
(208) 383-2250
Bureau of Reclamation
Snake River Area Office
230 Collins Road
Boise ID 83702-4520
Last Updated: 9/26/23