Paleontological Resource Excavation at American Falls
Paleontological Resource Excavation at American Falls
Environmental Assessment and FONSI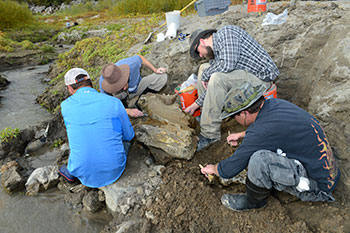 The Bureau of Reclamation has released the Final Environmental Assessment and Finding of No Significant Impact for the proposed paleontological resource excavation at American Falls Reservoir Sept. 25, 2015.
The Final EA evaluates the environmental effects of excavating and removing paleontological resources on the shore of American Falls Reservoir, located in American Falls, Idaho, and protecting them in a Reclamation-approved non-federal repository for future study.
Based on the analysis of the environmental impacts and tribal consultation, Reclamation concludes that implementation of the project will not have a significant effect on the quality of the human environment or natural and cultural resources. Reclamation must comply with the Paleontological Resources and Preservation Act by actively protecting and managing irreplaceable fossil resources found on federal lands. This excavation project will protect paleontological resources from erosion and degradation due to fluctuating reservoir levels and other possible damage.
Casual collection of fossils is not permitted on Reclamation-managed areas at American Falls Reservoir. If fossils are found on reservoir lands, Reclamation asks the public to photograph them, note their GPS location if possible, and report their findings to the nearest Reclamation office or the Idaho Museum of Natural History in Pocatello.
---
Contact
Jenny Huang
(208) 383-2257
jhuang@usbr.gov
Bureau of Reclamation
Snake River Area Office
230 Collins Road
Boise, Idaho 83702
Last Updated: 4/19/23