Washington Projects

The centerpiece of the Columbia Basin Project is Grand Coulee Dam which, in addition to providing storage water for irrigation, is one of the world's largest hydroelectric powerplants. Grand Coulee Dam also provides flood control, recreation, and benefits for fish and wildlife.
All other activities in Washington are administered through the Columbia-Cascades Area Office.
History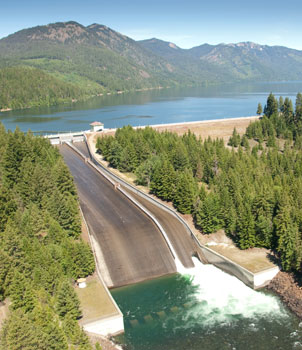 Although Washington has abundant annual precipitation compared to other Western states, most of it occurs during the winter. Water demand is greatest, however, during the summer growing season when rainfall is infrequent east of the Cascade Range.
Summertime water shortages and winter floods have plagued Washingtonians since settlers first arrived in the Columbia River Basin in the early 1840s. To combat the dry growing season conditions, settlers employed primitive irrigation techniques to bring water to thirsty croplands. Because these techniques resulted in lowering river levels, diversion facilities could no longer be used. This left Washington settlers with the same water shortage.
Following the creation of the Reclamation Service in 1902, construction began on Washington's first Reclamation constructed irrigation project. The Okanagan Project, begun in 1905, brought water to thousands of acres of croplands.
Construction began on Grand Coulee Dam in 1935 and was the first feature of the Columbia Basin Project to utilize the irrigation and hydropower potential of the Columbia River. Other projects developed by Reclamation, notably in the Yakima Valley, contributed to modern-day Washington's reputation as the 'fruitbowl' of the nation.
Marc Maynard
Field Office Manager
(509) 754-0200

Ephrata Field Office
PO Box 815
Ephrata WA, 98823
Related Links
Grand Coulee Dam
Yakima River Basin Water Operations
Washington Projects and Facilities
Washington Recreation
Tributary Habitat Program
Federal Columbia River Power System (FCRPS)
Columbia Basin Farm Unit Maps
Banks Lake Resource Management Plan
Potholes RMP
Yakima Integrated Water Resource Management Plan
Last Updated: 9/21/18