History
Owyhee Dam Near Vale, Oregon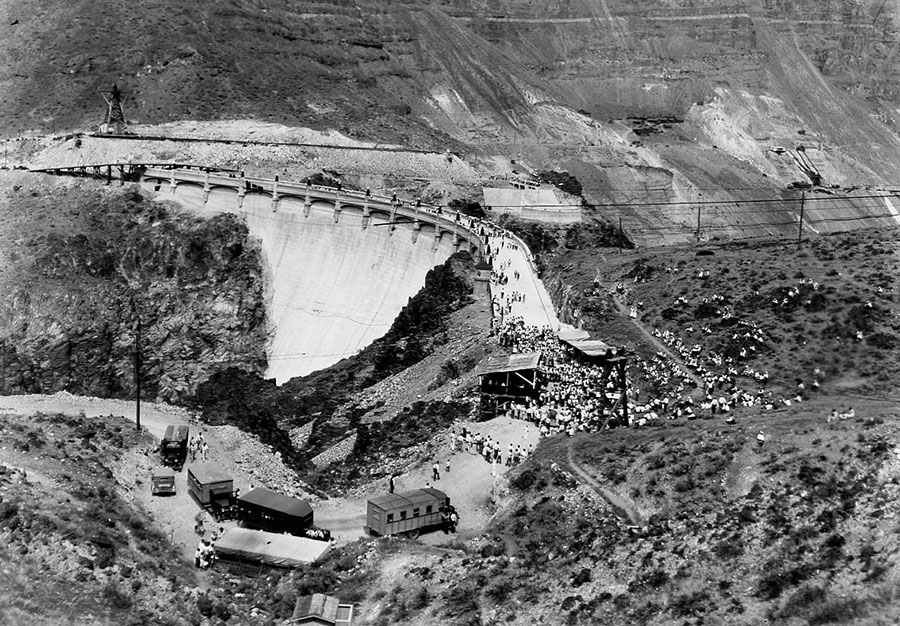 Approximately 3,000 visitors converged for the dedication of Owyhee Dam on the Owyhee River in eastern Oregon, Sunday, July 17, 1932. Many traveled in style in the 15 passenger-rail cars loaned for the occasion from Union Pacific Railroad Company. A steam locomotive pulled the train from the Dunaway siding between Nyssa and Adrian Oregon. Other guests arrived via motor coaches, some of which are pictured here.
In the early 1930's, the population of Ontario, Oregon was only 1,941. Ontario is the nearest, local population center and is located on the Oregon-Idaho border about 45 miles from Owyhee Dam. It is unknown where all the dedication attendees traveled from.
Secretary of the Interior, Ray Lyman Wilbur dedicated the dam, and delivered President Herbert Hoover's dedication address. Speakers at the dedication ceremony included Dr. Elwood Mead, the Commissioner of the Bureau of Reclamation, and C. Benjamin Ross, the Governor of Idaho.
At the time of construction (1928-32), Owyhee Dam was ranked as the world's highest. A concrete arch, Owyhee Dam is 417 feet high with a crest length of 833 feet above bedrock. The reservoir's surface area covers 12,742 acres.
Owyhee Dam was a proving ground for theories being developed to assist with the design and construction of Grand Coulee and Hoover dams. Methods for cooling mass concrete were of particular concern and were carefully studied. As well as testing concrete cooling, they also tested the effects of water pressure on high arch dams. The testing equipment remains in the dam today.
Last Updated: 5/31/16