Park rangers, volunteers release rescued bald eagle at New Melones Lake
Park rangers, volunteers release rescued bald eagle at New Melones Lake
Written by: Patricia Sanders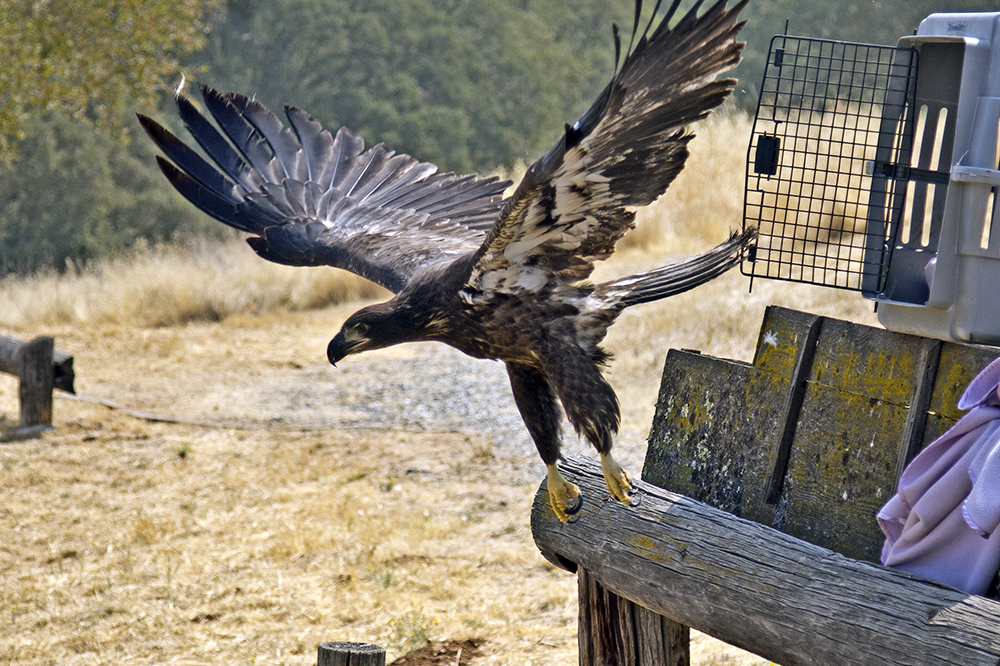 Rescued bald eagle released at New Melones Reservoir Aug. 25, 2018 (Photo by Pat Sanders)In late July, Bureau of Reclamation park rangers Grant Harrison and Pat Sanders rescued a young bald eagle found stuck along New Melones Lake after swallowing a fishing hook. The young eagle, who was malnourished and unable to move, was safely removed and transported to a wildlife rescue for rehabilitation.
The morning of Saturday, August 25, the eagle was finally ready for release back into its natural habitat. Rangers Harrison and Sanders were present to help release the young bird alongside volunteers and other New Melones employees. To give the eagle a better chance for take-off, Ranger Harrison, volunteer Mark Wall, and Benik of Tri-County Wildlife lifted the carrier on top of the interpretive osprey nest behind the visitor center.
Once the group swung the carrier's door open, the eagle quickly exited the carrier and flew down the hillside, landing in the grass shortly after taking the first test flight. It took flight again and soared to a tree near the lake. Thanks to the help of the many Reclamation employees, volunteers and local wildlife rescue staff who cared for the young eagle, it survived the ordeal to return home to its birth place at New Melones Lake again.
Published on September 05, 2018