Trinity River Restoration Program completes major restoration project
Trinity River Restoration Program completes major restoration project
Written by: Caryn Huntt DeCarlo, TRRP Executive Director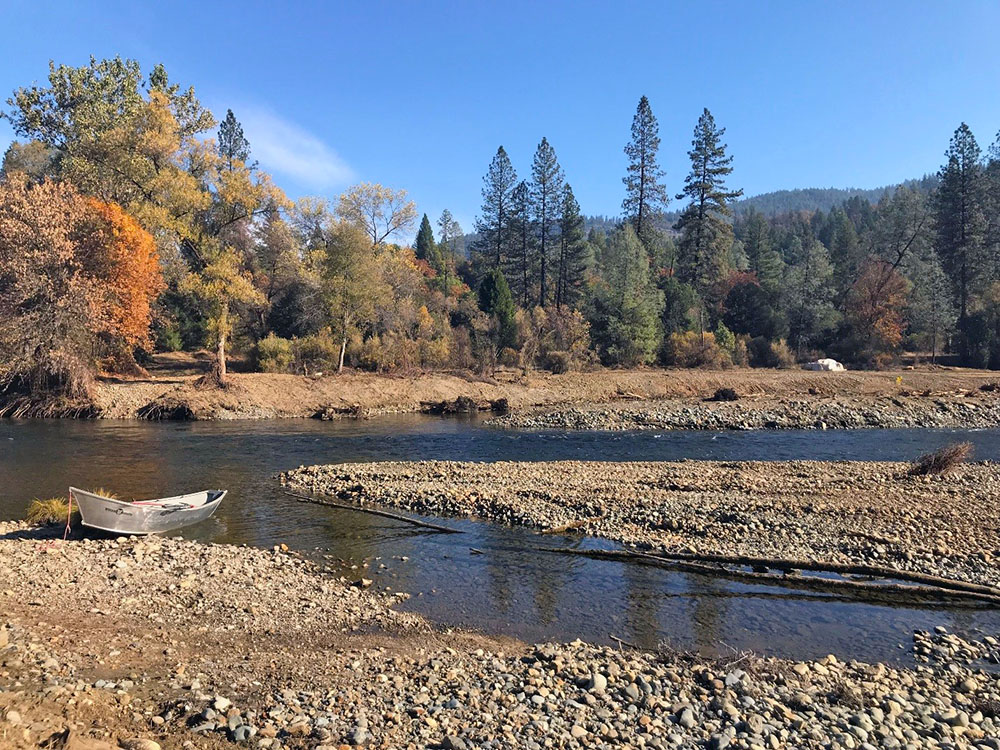 Newly constructed medial bar and point bar at the tail of a new floodplain and meander bend in the Deep Gulch area
The Trinity River Restoration Program recently completed a major restoration project at Deep Gulch and Sheridan Creek channel near Junction City, about 6 miles west of Weaverville, California. The two-year project was one of the largest channel rehabilitation efforts undertaken by the program with over 125,000 cubic yards of material moved.
The project included:
1 - Constructing flow-connected wetlands for juvenile salmon rearing and foraging habitat.
2 - Shifting the main channel into new meanders and construed bar features to decrease slope and increase channel complexity and spawning area.
3 - Lowering areas of floodplain to increase connection to the river at a greater range of flows and increase shallow rearing habitat.
4 - Installing engineered log jams to increase juvenile fish-rearing areas, provide habitat variability and enhance riparian condition.
5 - Revegetating construction-disturbed upland and riparian areas.
In-channel work was completed Sept. 30, 2017, while revegetation efforts will continue at the site for several more years. Spawning Chinook salmon have been observed within the new habitat area.
The Trinity River Restoration Program is a multi-agency program focused on restoring the Trinity River fisheries impacted by Trinity Dam's construction. Its eight agency partners are the Hoopa Valley Tribe, Yurok Tribe, California Natural Resources Agency, Trinity County, Bureau of Reclamation, National Marine Fisheries Service, U.S. Fish and Wildlife Service, and U.S. Forest Service.
For more information, please visit: http://www.trrp.net/
Published on February 20, 2018