Navajo Lake Visitor Center gets a Facelift
Navajo Lake Visitor Center gets a Facelift
Written by: Valerie Heath-Harrison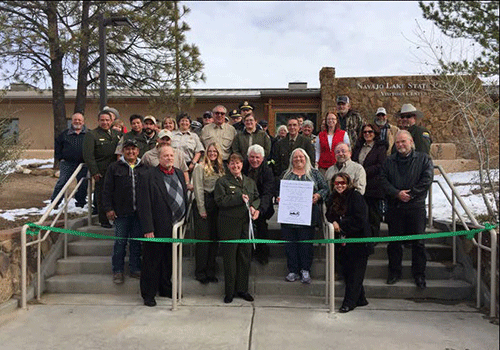 Group celebrating a ribbon cutting for the Visitor Center at Navajo Lake State Park's ceremony New Mexico State Parks recently completed renovations and additions to the Visitor Center at Navajo Lake State Park and celebrated with a ribbon cutting ceremony on Friday, December 2, 2016.
The visitor center was originally built in 1965 as part of the National Parks' "Mission 66" building program. Building renovations provide significant energy saving features, including: updated electrical and IT systems and new heating, air-conditioning, lighting, insulation, windows and doors. New water-saving plumbing fixtures were installed and renovations were designed to meet current accessibility standards for all visitors. The patio area was expanded by over three times, providing a spectacular view of the lake for outdoor events and a 30-seat indoor classroom was added for instruction and public events.
Additionally, two new pay booth stations were constructed on the entrance road to the lake to expedite visitor traffic during busy holidays and weekends. The booths provide staff with computers, radio access and a comfortable work space. There is also a new electronic billboard to alert visitors of any important messages as well as park events.
Construction began in September 2015 and was completed inn October 2016. Total construction costs were $1,215,000, with over half provided by a grant from Reclamation, the underlying land owners and the other portion provided by State matching funds.
Published on December 02, 2016