Truckee Canal revitalization project reaches major milestone, operations commence
Water deliveries to the Truckee Division begin after 13-month canal outage for revitalization project
Media Contact:
Mary Lee Knecht 916-978-5100 mgarrisonknecht@usbr.gov
For Release: Nov 2, 2023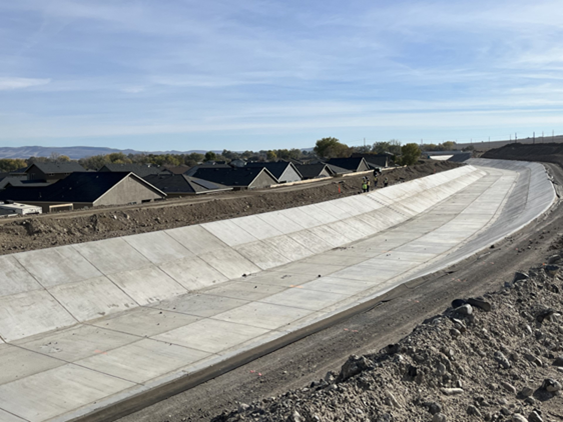 Truckee Canal
FERNLEY, Nev. – The outage for Phase 1 construction of the Truckee Canal Public Safety Improvement Project is complete and water deliveries to the Truckee Division have commenced. This meets Reclamation's goal of not exceeding a 13-month canal outage during construction.
The project, funded by President Biden's Bipartisan Infrastructure Law and implemented in collaboration with the Truckee-Carson Irrigation District, includes lining approximately 3.5 miles of the earthen canal in the most vulnerable stretch in the City of Fernley. The project will significantly increase public safety and improve water supply reliability. Construction activities will continue on the project through the spring but should not affect canal operations.
Owned by the United States and operated and maintained by the Truckee-Carson Irrigation District, the Truckee Canal is one of the Bureau of Reclamation's oldest projects. The 31-mile-long canal provides water for more than 50,000 acres of farmland, wildlife, and communities in western Nevada.
The Department of the Interior announced $35 million in funding to repair the Truckee Canal, as part of a $240 million investment in aging water infrastructure. To learn more about the project visit the Truckee Canal Public Safety Improvement Project webpage.
Return to top