Groundbreaking event held for road improvement project near Elephant Butte
Media Contact:
Pacifica Casares-Chehy, Albuquerque Area Office Public Affairs pcasareschehy@usbr.gov
For Release: Sep 21, 2023
Representatives from New Mexico Energy, Minerals, and Natural Resources Department, Bureau of Reclamation, Federal Highway Administration and partners "break ground" on the Lakeshore Drive project, Sept. 19.
ALBUQUERQUE, NM. – The Bureau of Reclamation, New Mexico State Parks Division and Federal Highways Administration-Central Federal Lands Division held a groundbreaking event Tuesday, Sept. 19, for the Road Rehabilitation Project of Lakeshore Drive at Elephant Butte Reservoir.
The estimated 16-month, $15 million project will significantly improve a critical road for nearly one million annual visitors to the reservoir and includes two bridges and two culverts at four separate locations along Lakeshore Drive.
"Currently, rainstorms cause sediment to build up on the upstream side of these undersized culverts, restricting their flow and this sediment must be cleaned out by park maintenance crews after each storm," said New Mexico Energy, Minerals, and Natural Resources Department Cabinet Secretary Sarah Cottrell Propst about the need for the project. "Heavy rain events can cause flows to back up at the culverts and overtop the roads, causing a danger to motorists, particularly where sight lines are impeded by sharp curves in the road."
Secretary Cottrell Propst detailed how several heavy storms in recent years have washed out the culverts and parts of the road, causing road closures. When the road washes out, there is no access to this area, and visitors may be stranded until the road is repaired. It requires significant staff time and resources to repair the damage to the road caused by the storms.
Bureau of Reclamation Albuquerque Area Office Manager Jennifer Faler emphasized the value of the continued collaboration between agencies to bring this project to fruition, as well as the importance of the increased safety that projects like this bring to the local community and recreation enthusiasts. She spoke of her personal experiences of getting to recreation areas in the southwest and the challenges that can bring when roads are not in good condition.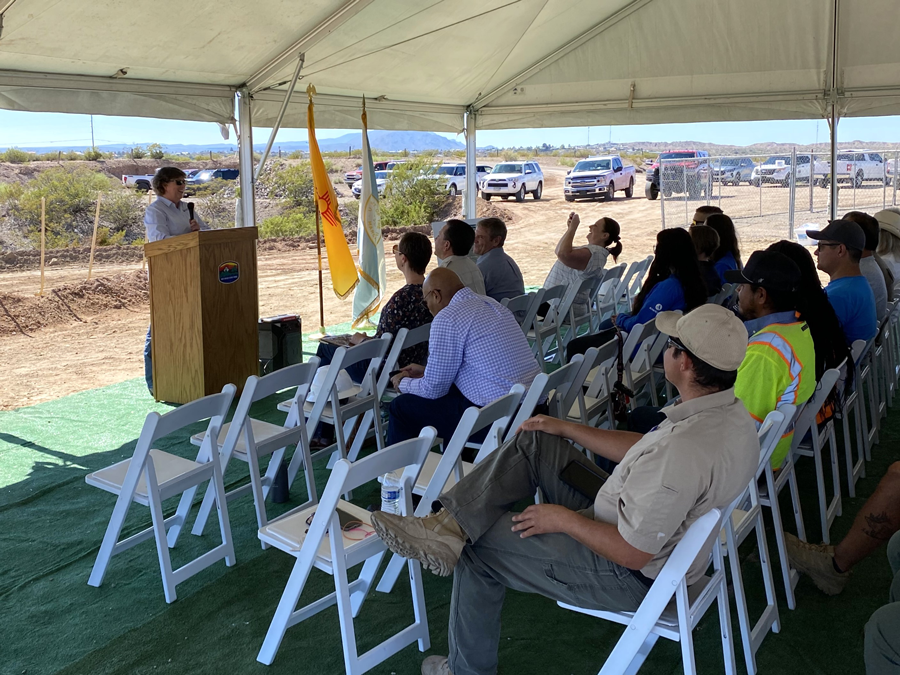 "It's really assuring to know that people are looking out for your safety and making sure you can get to these recreation areas as you are traveling the country," said Faler. "Kudos to the entire federal and state team for getting this project to construction."
New Mexico State Parks was initially awarded over $7 million through Federal Lands Access Program (FLAP) with a state match of $500,000 and $1 million in Federal Lands Transportation Program (FLTP) funds from Reclamation. The final allocation from the agencies includes $12 million from FLAP, $1 million from FLTP, $230,000 from Reclamation and $1,470,000 from New Mexico State Parks.
"The goal of Central Federal Lands is to provide safe, reliable access to our forests and parks, and we are doing that here," said Construction Branch Chief with the Federal Highway Administration James Rathke. "We are very proud of the role we play in our local communities to build safe and resilient roads."
Each speaker at the event emphasized the importance of this project not only for recreation and tourism, but also for the rural communities surrounding the state park who rely on these roads for day-to-day life.
"It brings us great pride to be able to bring these sorts of projects to our communities to improve the quality of life in and around our state parks," said New Mexico State Parks Director Toby Velasquez. "We are New Mexico. We are New Mexico True. We are la tierra encantada. We are leading outdoor recreation and the formative experiences that come from an experience in the outdoors that happens in our New Mexico State Parks."
For more information about Reclamation's Albuquerque Area Office, visit https://www.usbr.gov/uc/albuq/index.html. For more information on New Mexico State Parks, visit State Parks Home - State Parks (nm.gov).
Return to top