Reclamation and National Resources Conservation Service award $6 million for Klamath Basin salmon recovery
Media Contact:
Reclamation: Mary Lee Knecht 916-978-5100 mknecht@usbr.gov
USDA: Jonathan Groveman 530-792-5690 jonathan.groveman@usda.gov
For Release: Jun 16, 2023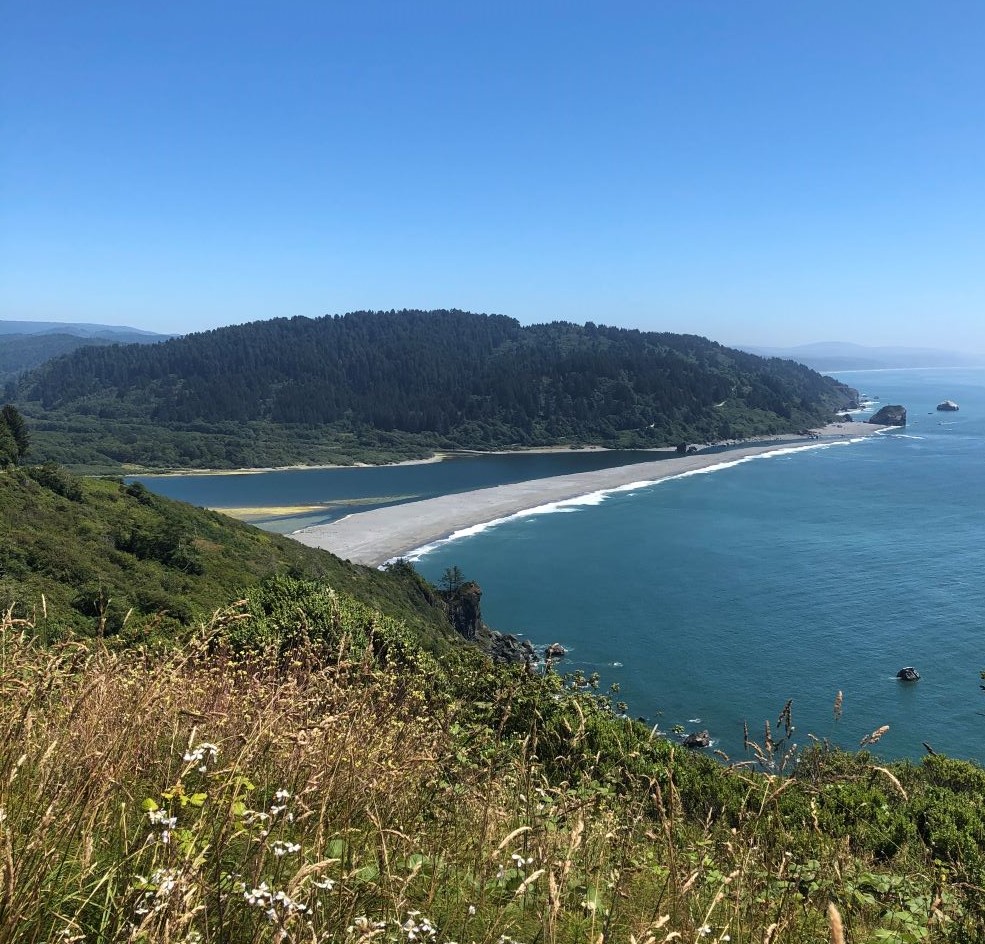 Klamath River estuary at the Pacific Ocean, Requa, CA
SACRAMENTO, Calif. – The Bureau of Reclamation and the U.S. Department of Agriculture Natural Resources Conservation Service announced today 11 projects totaling $6 million to be awarded as part of three Klamath Basin Salmon Restoration grant programs. Partnering with the National Fish and Wildlife Foundation to administer funds, the grants will be combined with $9,395,146 in matching contributions for a total conservation impact of nearly $15 million.
Reclamation's Klamath River Coho Restoration Habitat Program efforts focus on the mainstem of the Klamath River below Iron Gate Dam and tributaries from Klamath River mile 190 to the Klamath River estuary. The three projects selected will improve riparian and instream habitat; promote fish passage; provide access to cold water pools; and support design, planning and monitoring activities. For more information about the Klamath River Program and to view the complete grant slate, visit: https://www.nfwf.org/programs/bureau-reclamation-klamath-coho-habitat-restoration-program.
Reclamation's Trinity River Restoration Program prioritizes habitat restoration activities within tributary watersheds of the Trinity River between Lewiston Dam and Weitchpec, including the South Fork Trinity River and its tributaries. The four projects selected will improve aquatic habitat by reducing fine sediment delivery, improving fish passage, and pursuing increases to tributary flows in the dry season in tributaries of the Trinity River. These projects will mitigate impacts of the Trinity River Division of the Central Valley Project on the mainstem fisheries of the Trinity River. For more information about the Trinity River Program and to view the complete grant slate, visit: https://www.nfwf.org/programs/trinity-river-restoration-program.
USDA NRCS Shasta Valley Regional Conservation Partnership Program is leading restoration efforts on the Shasta River above County Road A12 to Dwinnell Dam and the river's tributaries, including Big Springs Creek and Parks Creek in the Shasta River Watershed. The four projects to receive funding this year will improve instream flows and water quality throughout the Shasta River watershed by leaving more water instream for longer periods and reducing diversion volume. For more information about the Shasta Valley Program and to view the complete grant slate, visit: https://www.nfwf.org/programs/shasta-valley-regional-conservation-partnership-program.
Reclamation and NRCS are committed to supporting long-term restoration and resiliency in the Klamath Basin, from its headwaters in Oregon to the Pacific Coast in California. For more information about work to protect water and related resources in Klamath Basin communities, visit: www.usbr.gov/mp/kbao, www.trrp.net, and www.nrcs.usda.gov.
Return to top