Hyrum Reservoir filling for irrigation season Spillway is closed and no longer being monitored for safety
Media Contact:
Upper Colorado Basin Public Affairs (385) 285-6506 ucbpao@usbr.gov
For Release: Jun 6, 2023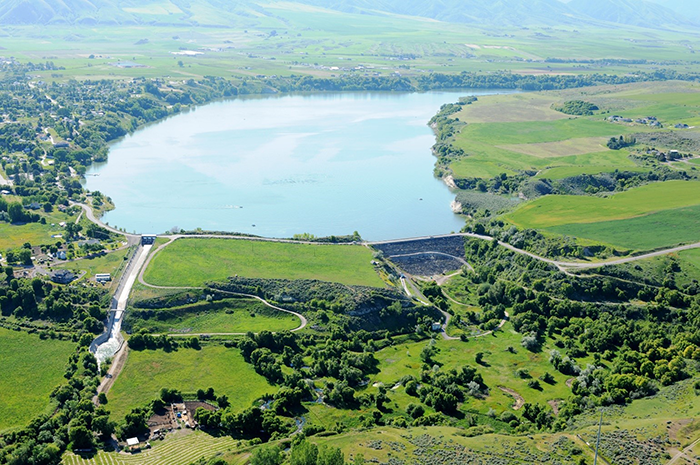 Hyrum Dam and Reservoir, Hyrum, Utah / Reclamation file photo
Hyrum Reservoir filling for irrigation season; s

pillway is closed and no longer being monitored for safety
SALT LAKE CITY – Reclamation today announced the closing of the spillway gates at Hyrum Reservoir, allowing the reservoir to fill for the irrigation season. With the spillway gates closed, the spillway no longer requires monitoring.
Out of an abundance of caution, Reclamation began around-the-clock monitoring of the dam's spillway early last month when high volumes of water had to be released from the reservoir through the spillway. Heavy equipment and riprap material were also staged nearby in preparation for potential emergency repairs.
"We had a forecasted record runoff of 238% of average, requiring dam operators to pass a high volume of water through the spillway. Reclamation was prepared to take immediate action if the spillway, which is nearly 90 years old, needed emergency repairs," said Reclamation Regional Director Wayne Pullan. "Fortunately, that didn't happen. Now the reservoir is filling, and irrigation deliveries are being made to water users."
Hyrum Reservoir's current projected April – July runoff is 86,000 acre-feet, of which approximately 76,200 acre-feet has materialized so far this spring. As of yesterday, the reservoir's elevation was approximately 4667.5 feet and end-of-day storage was 12,468 acre-feet, leaving approximately 5.0 feet and 2,266 acre-feet (15%) of space remaining to be filled.
Inflows measured at the Little Bear River just above Hyrum Reservoir continue to decrease and can be monitored here: Little Bear River at Paradise, UT - USGS Water Data for the Nation. Flows averaged 268 cubic feet per second yesterday, which is the same as the previous day's average. Flows of the Little Bear River peaked at 1,290 cfs in mid-May.
Hyrum Dam and Reservoir are the water storage features of the Hyrum Project. The dam and reservoir are located on the Little Bear River, approximately nine miles southwest of Logan, Utah, in the northern part of the state. The dam was constructed in 1935 and provides storage for irrigation and municipal use.
Ongoing and continuous maintenance has occurred on the spillway at Hyrum Reservoir since construction. The South Cache Water Users Association, which is responsible for operating and maintaining the dam, is working with Reclamation to replace the aging spillway in the near future. The riprap material will be kept on-site and used for that construction work. For more information about the spillway replacement project, visit: https://www.usbr.gov/uc/provo/index.html.
# # #
The Bureau of Reclamation is a federal agency under the U.S. Department of the Interior and is the nation's largest wholesale water supplier and second largest producer of hydroelectric power. Our facilities also provide substantial flood control, recreation opportunities, and environmental benefits. Visit our website at https://www.usbr.gov and follow us on Twitter @USBR; Facebook @bureau.of.reclamation and @coloradoriverbasin; LinkedIn @Bureau of Reclamation; Instagram @bureau_of_reclamation; and YouTube @reclamation.
Return to top