Streamflow in Big Thompson Canyon expected to be above average in spring, early summer
Media Contact:
Anna Perea 970-290-1185 aperea@usbr.gov
For Release: May 4, 2023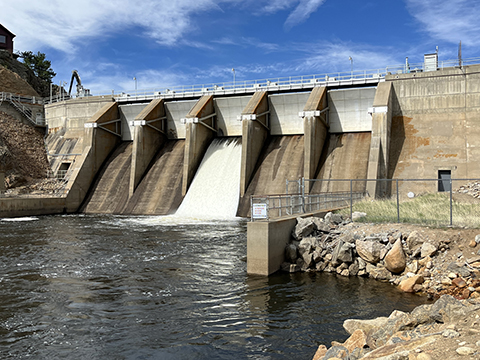 Water being released from Lake Estes at Olympus Dam (May 2022)
LOVELAND, Colorado – The Bureau of Reclamation anticipates allowing the majority of Big Thompson River water to pass through Lake Estes this spring and early summer, resulting in higher-than-average streamflows in the Big Thompson Canyon during the 2023 snowmelt season.
During most years, a portion of the flow is diverted off-channel for hydropower production, reducing the total flow in the Big Thompson Canyon. The last time Reclamation directed all Big Thompson River flows to pass through Lake Estes was in 2011.
"Anticipating snowmelt and above average flows, we want people who have homes and businesses closer to the streambanks to be able to prepare and plan accordingly," said Jeff Rieker, Eastern Colorado Area Office Manager.
In previous years with snowpack conditions similar to those observed this April, peak daily natural inflows to Lake Estes typically ranged between 800 and 1,350 cubic feet per second, for about four to ten days. The North Fork Big Thompson River, that joins the Big Thompson River near Drake, generally contributes an additional 175 to 350 cubic feet per second in years with similar runoff.
Media inquiries or general questions about Reclamation should be directed to Anna Perea, Public Affairs Specialist, at 970-290-1185 or aperea@usbr.gov. If you are deaf, hard of hearing or have a speech disability, please dial 7-1-1 to access telecommunications relay services.
The Colorado-Big Thompson Project (C-BT) is one of the largest and most complex natural resource developments undertaken by the Bureau of Reclamation. C-BT stores, regulates and diverts water from the Colorado River west of the Continental Divide to provide supplemental irrigation water for 615,000 acres east of the Rocky Mountains. It supplements the municipal and industrial water supply and provides recreation for more than 1 million residents in Northeastern Colorado. It also produces enough electricity to power nearly 68,000 households.
Return to top