Reclamation announces New Melones Lake winter activities
Media Contact:
Mary Lee Knecht 916-978-5100 mknecht@usbr.gov
For Release: Dec 9, 2022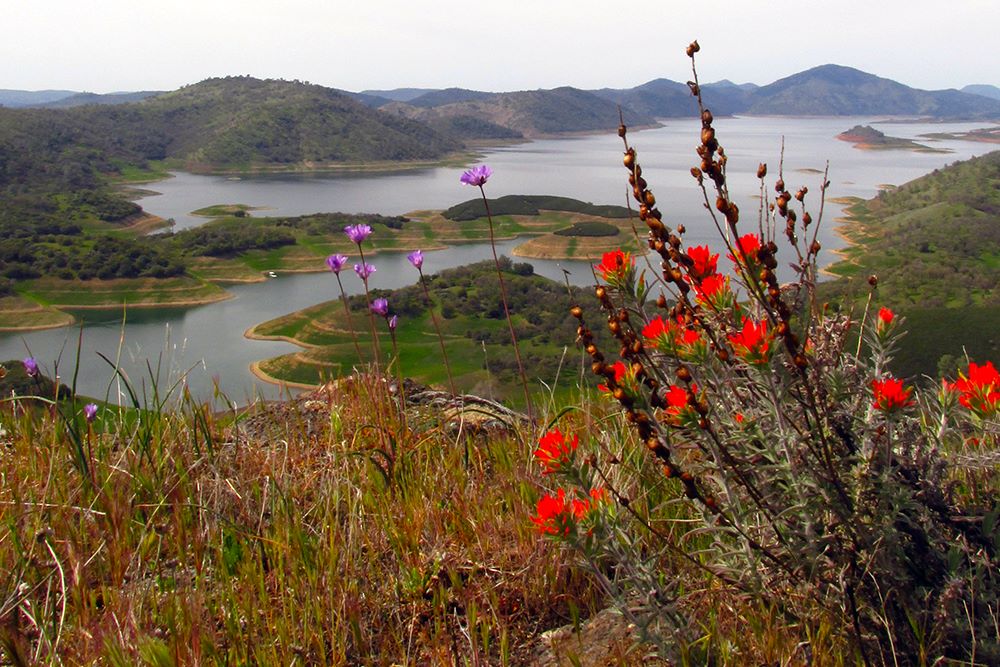 New Melones Lake Table Mountain
SONORA, Calif. – The Bureau of Reclamation announces interpretive programs and activities at New Melones Lake, located in Calaveras and Tuolumne Counties. Programs are free of charge and do not require reservations. Children under the age of 18 must be accompanied by an adult. All programs are weather dependent.
Discovery Hike to Natural Bridges
Sunday, December 11, 12 p.m.
Discover how the famed Natural Bridges in Calaveras County were formed, learn about the Gold Rush-era miner who lived there for decades, and more! Accompany a park ranger on this moderate 2-mile educational hike, starting at 12 p.m. at the Natural Bridges trailhead near Vallecito.
New Melones Dam Overlook Tour
Sunday, December 18, 12 – 4 p.m.
Enjoy a rare look at New Melones Dam from above. The historic dam overlook, typically closed to vehicle traffic, will be opened to the public from 12 – 4 p.m. A park ranger will be on site to answer questions about the dam and the history of New Melones Lake. The overlook is on Old Melones Dam Road, which can be reached by taking Peoria Flat Road off O'Byrnes Ferry Road. Take a right at the Baseline Fire Center and continue up the hill.
New Year, New Melones! New Year's Hike on Duchess Mine Trail
Sunday, January 8, 10 a.m.
Stick to your New Year's resolution on this challenging 4-mile hike. After gaining over 1000 feet of elevation on the walk up, you'll be rewarded with views of New Melones Lake and the Sierra foothills, along with remnants and relics from the gold mine that once operated here. Join your park ranger guide at 10 a.m. in the parking lot on the Calaveras County side of Parrotts Ferry Bridge.
Discovery Hike in Tuttletown
Sunday, January 29, 10 a.m.
Are you curious about critters? Does a tree bring you glee? Get to know the flora, fauna, and ecology of New Melones Lake on this moderate 2 to 4-mile hike. Meet your park ranger guide at 10 a.m. at the entrance to Tuttletown Recreation Area.
Table Mountain Wildflower Hike
Sunday, February 19 and 26; March 5, 12, 19, and 26, 9 a.m.
Take in the splendor of the annual wildflower bloom on any (or all!) of six weekly wildflower hikes to Table Mountain. Join a knowledgeable park ranger on a moderate 2 to 3-mile hike through carpets of native flowers. For intrepid hikers, stunning views await at the top of Table Mountain itself. Meet at 9 a.m. inside the first gate on Shell Road. Park inside the gate and off the dirt road. Parking is limited so carpooling is encouraged.
Stanislaus State Science Day
Saturday, March 11, 10 a.m. – 2 p.m.
This annual event, held at the Stanislaus State campus in Turlock, seeks to spark an interest in the areas of STEM (Science, Technology, Engineering, and Mathematics) among young students. Along with organizations from across the region, park rangers from New Melones Lake will be present with interactive educational displays. Science Day is scheduled for 10 a.m. – 2 p.m. with speakers and presentations throughout.
The New Melones Visitor Center and Museum is managed by Reclamation's Central California Area Office. Hours of operation are daily from 10 a.m. to 4 p.m. For more information, call 209-536-9543 (TTY 800-877-8339) or visit https://www.usbr.gov/mp/ccao/newmelones/index.html.
Return to top