Temporary low flows at Rapid Creek should increase by end of week
Media Contact:
Darrin Goetzfried (701) 221-1272 dgoetzfried@usbr.gov
For Release: Dec 6, 2022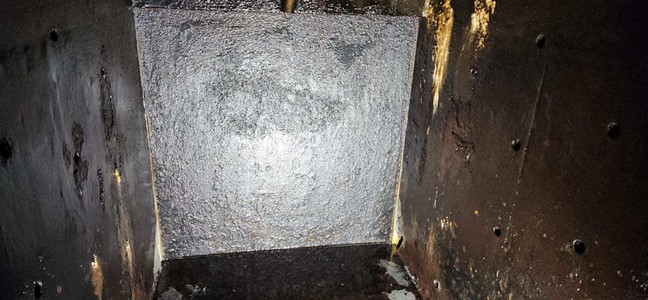 Gate Four Concrete Cavitation
RAPID CITY, S.D. – The Bureau of Reclamation began lowering the water levels into Rapid Creek late last week to conduct repairs to the Pactola Reservoir left regulating gate. In coordination with our partner at the City of Rapid City, Reclamation temporarily lowered levels to 11 cubic feet per second (cfs) to facilitate required repairs to the dam.
Concrete cavitation was identified during an inspection in November near the left gate. Yesterday, planned repair work began, and the bypass was opened to allow continued flows while repairs were being made.
"Yesterday, Reclamation, in coordination with the city began repairs to concrete infrastructure and to prevent possible damage to the left regulating gate," said Joe Hall, Dakotas Area Manager. "After investigation of the cracking, special bonding was ordered to repair these damages. It is important to note that flows are being maintained through the bypass channel to continue to serve the greater Rapid City community."
These repairs are necessary due to the location of cavitation and cracking. Further cavitation could lead to larger repairs on the gate itself.
Reclamation maintains and controls releases in conjunction with the city. In addition, an abnormally dry season has contributed to lower flows in Rapid Creek. These levels are fluid, and any releases are carefully communicated with our partners.
"We expect the materials and repairs to be completed by the end of the week," said Hall. "At that time, we expect flows to increase to 30 cfs."
Pactola Dam and Reservoir are part of the Rapid Valley Unit which provide irrigation water for about 8,900 acres of farmland, municipal and industrial water supplies for Rapid City and Ellsworth Air Force Base, flood control benefits for the local area, and wildlife benefits are provided through cooperative efforts between Reclamation and other federal and state agencies.
For more information on Rapid Creek flows, call Reclamation's Dakotas Area Office (605) 394-9757.
###
Return to top