Reclamation opens Klamath Project irrigation season with limited water supply allocation amid extreme drought
Announces $20 million in immediate aid through the Klamath Project Drought Response Agency and $5 million in Tribal technical assistance
Media Contact:
Mary Lee Knecht 916-978-5100 mknecht@usbr.gov
For Release: Apr 11, 2022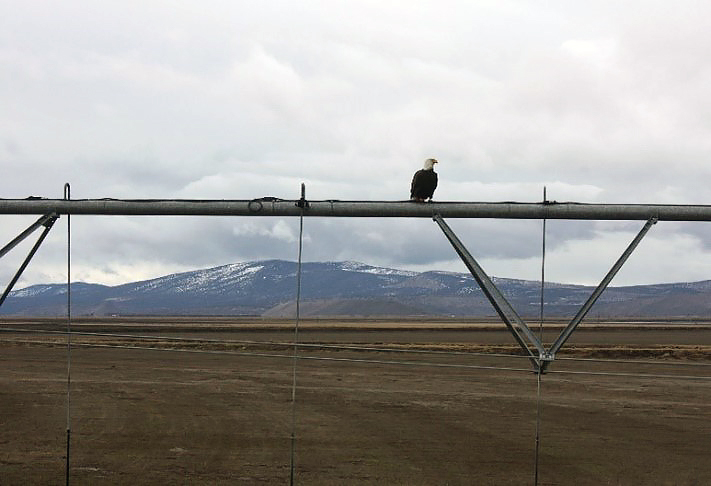 Klamath Project
KLAMATH FALLS, Ore. – The Bureau of Reclamation announced today, the initial Klamath Project water supply allocation in the third consecutive year of drought conditions. Coupled with the allocation announcement is the release of the Klamath Project 2022 Temporary Operating Procedures, which will guide operations for the 2022 water year.
In consideration of the Natural Resources Conservation Service's April 1 inflow forecast, last water year's observed inflows, and the provisions of the 2022 Temporary Operating Procedures, Reclamation is making an initial Project allocation of approximately 50,000 acre-feet to allow for limited irrigation beginning on April 15th and subject to meeting an end of water year Upper Klamath Lake elevation of no less than 4,138.15 feet, with the objective of no less than 4,139.2 feet through July 15th. Unauthorized diversions of water will result in reductions to the Klamath Project water allocation, and appropriate legal action will be pursued.
Reclamation also announced a total of $20 million in immediate aid to the Klamath Project through the Klamath Project Drought Response Agency for the 2022 irrigation season. An additional $5 million in technical assistance is being made available to Klamath Basin Tribes for Tribally led projects.
"The Klamath Basin is experiencing prolonged and extreme drought conditions that we have not seen since the 1930s," said Reclamation Acting Commissioner David Palumbo. "We will continue to monitor the hydrology and adaptively manage conditions in close coordination with Project water users, Tribes and state and federal agency partners. Reclamation is dedicated to collaborating with all stakeholders to get through another difficult year and keep working toward long-term solutions for the Basin."
The Klamath Basin received below normal precipitation again this winter, and Reclamation has continued to coordinate with the U.S. Fish and Wildlife Service and the National Marine Fisheries Service, Tribes, states, irrigation districts and non-government organizations to develop operational solutions for extraordinary dry conditions during the 2022 water year.
Today, Reclamation released the Klamath Project 2022 Temporary Operating Procedures that outlines water supply allocation parameters and provides guidelines developed in coordination with the Services to adaptively manage Klamath Project operations, including equitably allocating any surplus inflows for ecosystem and agricultural benefits. Under the procedures, in addition to a Project water supply, Reclamation would conduct a flushing flow this spring to supplement the base flows in the Klamath River and reduce the potential for disease in migrating salmon. Reclamation would also provide flows to support the culturally and religiously significant boat dance ceremony for the Yurok Tribe.
The Interior Department recently conducted a series of engagement sessions focused on addressing the drought and ecosystem crises in the Klamath Basin. During the sessions, Secretary of the Interior Deb Haaland and other senior leadership from across the federal government identified significant opportunities to support water resilience and habitat infrastructure investments, all of which will make great strides in delivering on the Biden-Harris administration's commitment for sustained, inclusive engagement that helps minimize the impacts of the drought and develops a long-term plan to facilitate conservation and economic growth.
Through the Drought Resilience Interagency Working Group, co-led by Secretary Haaland and Agriculture Secretary Tom Vilsack, the administration is coordinating a whole-of-government effort to support water resilience and drought mitigation across the West.
For more information about Reclamation's Klamath Basin Area Office's work to protect water and related resources in Klamath Basin communities, and Klamath Project hydrologic and operations updates visit https://www.usbr.gov/mp/kbao. For additional information or assistance accessing documents, contact the Klamath Basin Area Office at 541-883-6935 (TTY 800-877-8339).
Return to top