Stampede Dam (LBAO)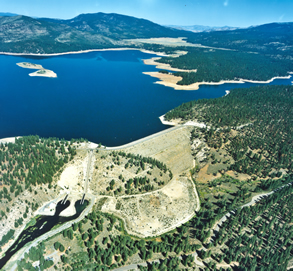 Stampede Dam is located on the Little Truckee River, about 10 miles northeast of Truckee, California.
Current Status:
Reclamation's Safety of Dams modifications are complete and the road over the dam was opened Nov. 1, 2018; however, please be aware of reoccurring seasonal road closures in the area.
Video: Stampede Dam Safety Project Complete
Click on the below video for more on how Reclamation crews raised Stampede Dam 11.5 feet, constructed two small dikes, and reconstructed the spillway to limit outflows during large floods—in less than two years and $22 million.
Background: 
Reclamation has completed raising Stampede Dam by 11.5 feet to address dam safety concerns related to large flood events. Major project features included constructing a Mechanically Stabilized Earth (MSE) wall over the dam and dike, constructing two small dikes near the south end of the reservoir to fill low-lying areas of the reservoir rim and reconstructing the spillway crest structure to limit outflows during large floods.
The construction contract for this work was awarded in May 2016 to NW Construction Incorporated of Bozeman, Montana for $21.8 million. Construction activities began in September 2016 and wrapped up in fall 2018.
Additional Information: 
Note: Documents in Portable Document Format (PDF) require Adobe Acrobat Reader 5.0 or higher to view, download Adobe Acrobat Reader
Last Updated: 11/9/20