Folsom Dam (CCAO)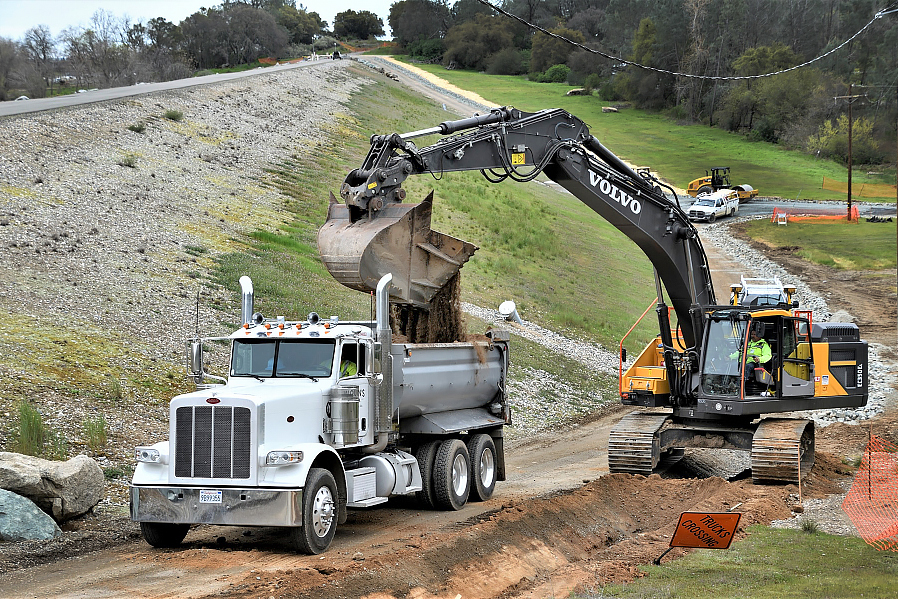 Reclamation crews working on Folsom Reservoir improvements. (USBR photo, Winetta Owens)
2020 Activities
FOLSOM, Calif. – Construction crews for the Bureau of Reclamation are making Safety of Dam improvements at the Right Wing Dam, Folsom Reservoir. This phase of the Safety of Dams work will begin in November 2020 and is expected to wrap up around July 2022.
Current construction improvements include addressing minor runoff, drainage and erosion conditions at the Right Wing Dam. The improvements are being done as part of Folsom's overall Safety of Dams program, which started in 2007 and is now nearing completion.
The Right Wing Dam are engineered earthen dam and serve a critically important role," said Reclamation Project Manager Mark Curney. "The Right Wing Dam is a part of the Folsom Dam facilities that perform multiple duties by filling in lower-lying areas to safely impound the reservoir, connect maintenance and recreational pathways around the lake, and serve as important flood risk reduction features."
Trail segments will not be restricted during construction of the Right Wing Dam efforts.
Background
Folsom Dam and Reservoir is a component of the Central Valley Project, operated by the Bureau of Reclamation, Mid-Pacific Region, Central California Area Office.
Under the Dam Safety Program, Reclamation identified the requirement for expedited action to reduce hydrologic (overtopping), seismic (earthquake), and static (seepage) risks. These events have a low probability of occurrence in a given year; however, due to the large population downstream and adjacent to Folsom Dam, modifying the facilities is prudent and required to improve public safety.
The preferred risk reduction modification actions are recommended for implementation under the Reclamation Safety of Dams Act. In accordance with the Act, the need for corrective action at the Folsom Facility is based on state-of-the-art changes in hydrologic loading, seismic loading, structural reinforcement, and defensive measures for erosive embankments.
The current preferred modification alternatives to reduce dam safety risks at the Folsom Facility to acceptable levels include construction of a new auxiliary spillway, construction of crest filters at the Left Wing Dam and Right Wing Dam, construction of filters and berms at Dikes 4, 5, and 6, foundation stabilization and Stability berm construction at Mormon Island Auxiliary Dam and at the main concrete structure gate and pier reinforcement. These alternatives comprise the least cost technically viable solution that reduces the risk of dam failure to below Reclamation's guidelines, ensure continued structural integrity under all operating conditions, and maintain full project benefits at current levels.
Additionally, Reclamation and the Corps have developed a Joint Federal Project (JFP) to achieve respective agency objectives (hydrologic risk reduction and flood damage reduction). Pending anticipated full authorization by the Corps, the JFP auxiliary spillway will be fully constructed resulting would be a spillway that meets the needs of both agencies and allows both agencies to save costs. Reclamation is proceeding with initial phases of construction pending full Corps authorization and further design work.
For additional information, please email MP Region Safety of Dams or call 916-978-5328 (TTY 800-877-8339).
Note: Documents in Portable Document Format (PDF) require Adobe Acrobat Reader 5.0 or higher to view, download Adobe Acrobat Reader
Last Updated: 11/16/20