Students visit Region's offices on
'Take Your Daughters and Sons to Work Day'
On April 25, more than 50 students who are the children, grandchildren, nephews, and nieces of Lower Colorado Region employees visited various offices as part of the "Take Your Daughters and Sons to Work Day' observance.
At the Regional Office's Date Street Office Complex almost 40 children visited. For this group there was a morning of tours and activities, which ended with a pizza lunch.


LEFT – First on the list of offices the students visited was the Print Shop where Susie Levin, far left, demonstrates how paper pads are made. RIGHT – Regional Photographer Andy Pernick, right, explains the function of the Imagery Group. Assisting him is Alex Stephens, center.
LEFT – Terri Saumier, standing far right, gave the students briefings about the nearly completed new Training Center and the "green" Building 1400. RIGHT – Don Bryce, center, explained how electricity is conducted through various materials.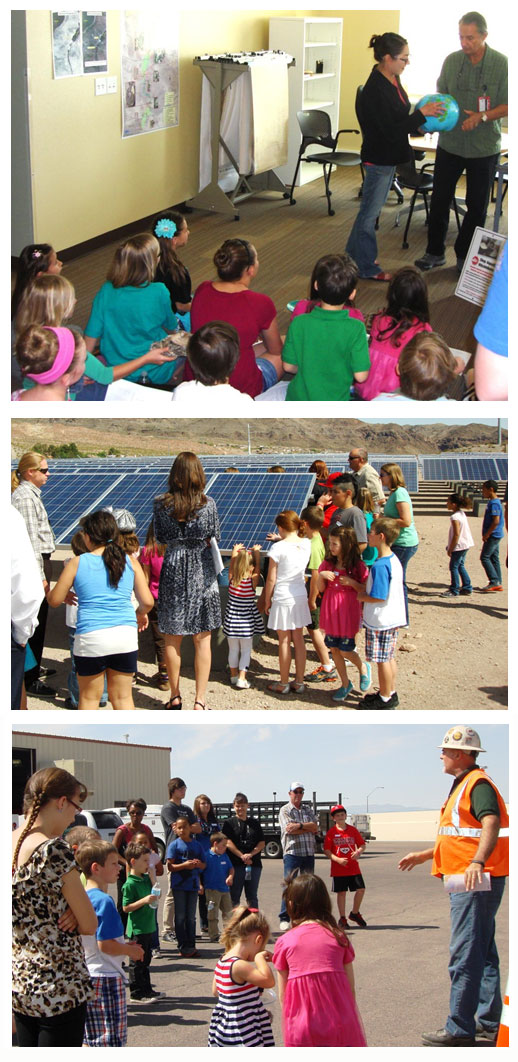 ABOVE TOP – Julie Martinez and Phil Aurit discuss a brief geography lesson as they explain how quagga mussels made it to Lake Mead from Russia. ABOVE MIDDLE – Joe Stubitz, standing far left, explains how the Date Street Office Complex solar panels help in lowering Reclamation's power bill by generating electrical power. ABOVE – John Stemmer, right, explains about the importance of safe operations when using heavy equipment. After his briefing, he demonstrated the operation of a dump truck, backhoe, forklift, and a high-access unit, commonly called a "cherry picker."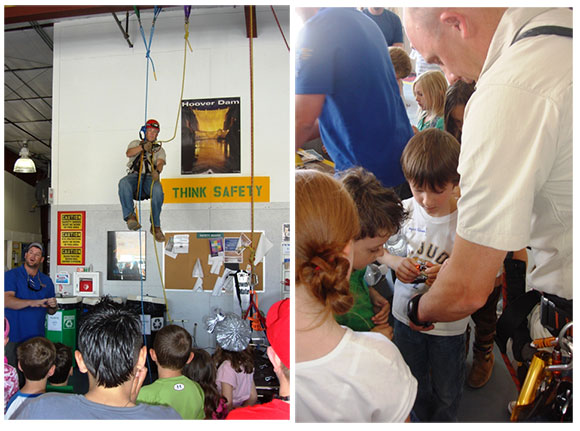 LEFT – Corey Dickson, left, explains the basics of rope access and the procedures that are done to ensure the safety of climbers such as Brandon Barrows hanging in the rope harness. Right – Brandon Barrows explains how carabiners work.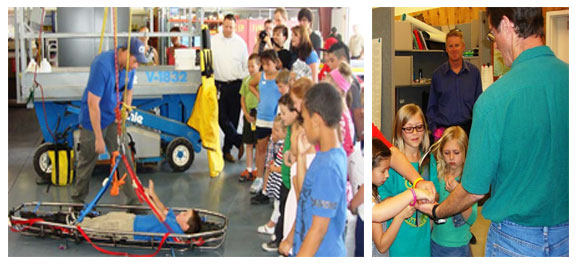 ABOVE LEFT – Cory Dickson checks with a student volunteer to make sure he is comfortable, before he and Brandon Barrows demonstrate how a rescue is made. ABOVE RIGHT – Ty Wolters lets students in his group examine PITs (Passive Integrated Transponders) that are injected into fish to facilitate tracking.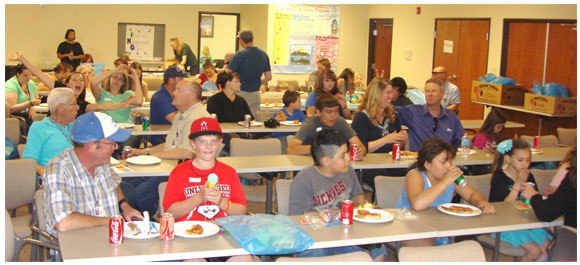 ABOVE – Parents and children enjoy the pizza party provided by the Regional Office REA. The morning concluded with a departing message from Regional Engineer Scott Tincher, Engineering Services Office Chie

LCR photos by Steve Leon

Webmaster: sha-lcr-webcomments@usbr.gov
Updated: May 6, 2013