Partnerships, Teamwork Contribute to Wetlands Park's Success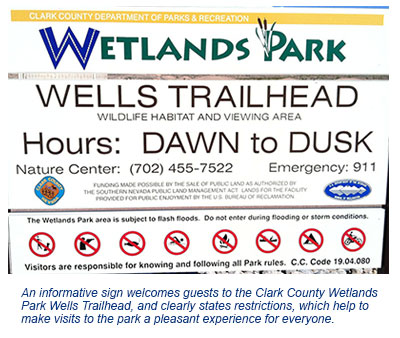 "We expect to see an increase in visitation at the Wetlands Park as well as an increase in educational opportunities for youth," says Realty Specialist Brandon Barrow, Resources Management Office. "Nothing gives me greater job satisfaction than seeing someone on a trail that I had a hand in creating."

He is speaking about the Clark County Wetlands Park, an America's Great Outdoors Project, located east of Las Vegas and about 20 miles from the Regional Office in Boulder City.

"Since 2000, Reclamation has leased lands to Clark County to facilitate a multi-use recreation facility," Barrow said. "I have been involved in various phases of the Wetlands Park for about five years now, and serve as the lead realty specialist for the project," he added.

He goes on to say the 2,900-acre park offers walking, hiking, cycling, and equestrian trials as well as opportunities such as bird watching and picnicking.

"There are many educational and interpretive opportunities there, as well," he added. "The long-range goal of the park is to provide recreational and educational opportunities for local residents while restoring and conserving wetland habitat."

In Phase I of the project, which is currently underway, crews are constructing a system of trails. Additionally, they are building a nature center, and a Nature Center Exhibit Gallery and Auditorium.

Within the next 60 days, construction will begin on the next phase – Duck Creek Trailhead renovation.
Partners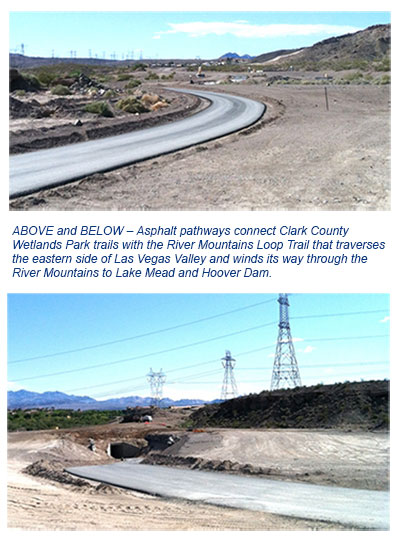 "With Clark County as our partner, we anticipate construction of at least 16 miles of trails this year," said Barrow. The County provides funding and resources to construct and maintain various parts of the Wetland Park.

Southern Nevada Water Authority (SNWA) maintains the banklines of the Wash and has begun to incorporate recreation into their weir construction and planning. Through a partnership with SNWA, ". . . roughly 25 acres of upland and wetland habitat creation will occur this year," he added. "We also anticipate removing up to two acres of tamarisk, and re-vegetating up to two acres with native grasses, shrubs, and trees. One of the major efforts planned for this year is to continue to meet our goals for the Youth Initiative by engaging youth conservation corps members to work on trail construction, invasive species removal, and re-vegetation efforts."
America's Great Outdoors
With pride, Brandon states that in February, the Park was nominated for America's Great Outdoors (AGO) recognition.

"The AGO nomination gives us a greater opportunity to work with Clark County to develop education, recreation, and conservation measures within the CC Wetlands Park," he said. "I am thrilled that we have received the AGO nomination because I have seen how that nomination can get people excited. I feel fortunate to work on a project that has so many tangible benefits."
Team Effort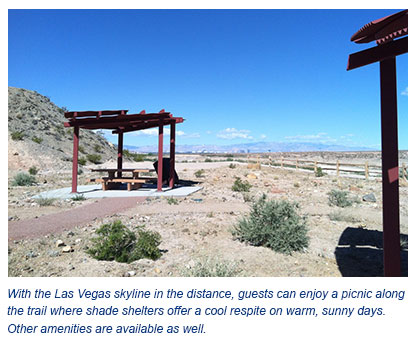 "This undertaking is not mine alone, Brandon emphasized. "I couldn't do all of this myself, and there are people who are just as involved and vested in the project as I am."

"This project could not happen under the guidance of just a single person," he said. "Our Office Chief Val Simon has been supportive of this AGO nomination and has offered guidance as we navigate data calls and deadlines related to the AGO initiative. From the Lands Group, Realty Specialist Jason Kirby, and Regional Outdoor Recreation Planner Bill Martin have helped with the initial planning for work to be done in 2013-2014, which included the development of our AGO action plan and scheduling of our first youth conservation crew to work at the Wetlands Park."

RMO's Lands Group was and continues to be responsible for issuing permits for the trail systems. Additionally, it assists with the design of the trail system and related interpretive panels.

"Given the rich natural resources of the Las Vegas Wash, which flows through the middle of the Wetlands Park, our Environmental Compliance Group has helped with resource protection," Brandon said.

"Archaeologist Jim Kangas from the Environmental Compliance group has been a key player in developing a Cultural Resource Programmatic Agreement for the Wetlands Park," he added. "This has been a tremendous help in getting projects moving! Biologist Becky Blasius from Environmental Compliance assists through her coordination with SNWA on Las Vegas Wash activities. Former Wetlands Park Coordinator Elsie Sellars of Clark County has been a major player in this project too."
Spinoff

These efforts could result in the incorporation of the Wetlands Park trail system into the master trails planning for the Las Vegas area, Brandon speculates. "We have already seen the River Mountain Loop Trail connect to the Wetlands Park trail system."
Conclusion

"I would like people to know this work is important," Brandon summarized. "It will provide opportunities for youth to become engaged in land and resource management, to learn about issues like water quality and habitat restoration, and to learn about the outdoors. This is a project where the benefits can be seen every time we go out into the field."

"If LC Region employees would like to help with the project, they can volunteer at the Las Vegas Wash Green-Up events that will be happening this year," he added. "The first green-up occurred this month, but there will be one in the fall as well. Green-ups are opportunities for volunteers to help with the re-vegetation efforts that are ongoing in the Wash.

For more information, visit www.lvwash.org/html/help_volunteer_greenup.html.
LCR photos by Realty Specialist Brandon Barrow

Webmaster: sha-lcr-webcomments@usbr.gov
Updated: April 25, 2013