Hoover Dam Police Department Demonstrates its Support for Water Safety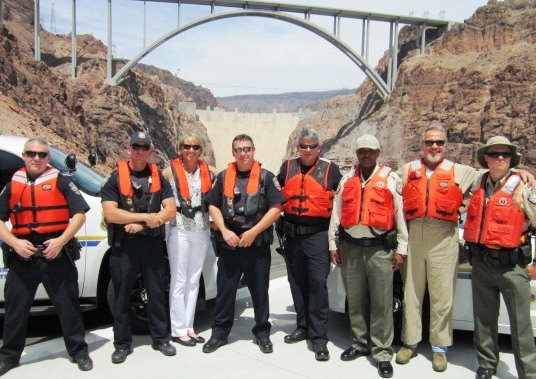 Donning their life jackets to demonstrate anyone can wear a life when performing their duties are, l-r, Officer Richard Haas, K-9 Officer Michael Billo, Chief Mary Hinson, Officer Brian Gorecki, Deputy Chief Dennis Shotwell, Security Manager Darryl Kelly, Electronic Equipment Mechanic Michael Macosko, and Security Officer Royal Magnell. LCR photo

On May 16, Hoover Dam Police Department (HDPD) officers demonstrated their support for safety and their commitment to the community.
Along with their fellow Hoover Dam employees, HDPD officers joined colleagues, peers, and friends around the world in demonstrating how easy it is to wear a life jacket by participating in the National Wear Your Life Jacket to work day.
"The annual event, hosted by the National Safe Boating Council (NSBC) serves as a fun, educational element just prior to National Safe Boating Week, May 17-23," said Chief of Police Mary Hinson.
"Over the past several years, Lake Mead National Recreation Area has seen a steady decline in the number of boating fatalities due in large part to raising awareness about the importance of wearing a life jacket in or around the water," she added. "Bureau of Reclamation employees work and recreate on lakes Mead and Mohave, and this is an excellent way to remind everyone of the importance of wearing your life jacket."

Webmaster: sha-lcr-webcomments@usbr.gov
Updated: 5/27/14