The Lower Colorado Region hosts
Viva Bike Vegas Gran Fondo at Hoover Dam
By Rose Davis, Regional Public Affairs Officer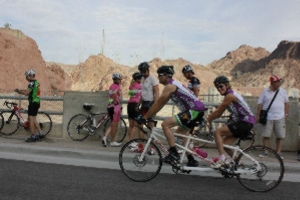 It was a beautiful Saturday morning on Sept. 22nd as hundreds of bicycle riders from across the country and around the world were welcomed to enjoy the beautiful view and historical architecture of Hoover Dam.
The Regional Transportation Commission of Southern Nevada (RTC) was the primary sponsor of the Viva Bike Vegas Gran Fondo which joined folks of all ages enjoying outdoor activities on public lands.
This year, the riders began early in the morning under the bright lights of the world-famous Las Vegas Strip and embarked on a 17-mile ride, 75-mile ride, 102-mile Century ride or 122-mile Gran Fondo. The cyclists' route took them through the scenic views of Red Rock Canyon National Conservation Area and near the trails and beaches of the Lake Mead National Recreational Area (NRA).
The 75-mile, Century and Gran Fondo riders ended their challenge riding over the historic Hoover Dam.
A parking lot on the Arizona side of the Dam was reserved for the riders who made the grueling trek from downtown Las Vegas to Hoover Dam. Water, bike repair, and first aid stations were set up, and nearly as many cameras were present as riders.
It seemed everyone who made it to Hoover Dam wanted to take photographs and get photographs of their riding buddies. I think I happily obliged at least ten teams to get their smiling and somewhat tired faces framed in their digital memories by the scenic structures and towering canyon walls at the Dam.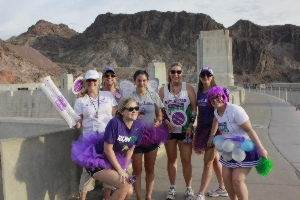 The photos were fun and memorable: riders from Pennsylvania had four-inch stuffed silver Hershey's Kisses™ toys attached to their bike helmets; the peaches on the helmets of the riders from Georgia showed their state pride and other team uniforms indicated their military affiliation with the Air Force and the Marines. I talked to folks from New Mexico, Iowa, Texas, and one gal who said she rode for Hawaii via San Jose, California. She had a flower lei wrapped around her bike helmet.
Proceeds from RTC's Viva Bike Vegas benefit local charities: UC San Diego Nevada Cancer Institute, After-School All-Stars Las Vegas, and Communities in Schools of Nevada.
Hoover Dam Police, Nevada Highway Patrol, and National Park Service officers provided traffic control exiting the Lake Mead NRA and vehicle safety escorts to the riders as they exit Highway 93 and rode the sharp turns to top of Hoover Dam. Congratulations to all the folks at Hoover that worked hard to ensure that the Viva Bike Vegas Gran Fondo was truly a grand Regional partnership in sharing Hoover Dam with the world.
Photos courtesy of the Regional Transportation Commission of Southern Nevada

Webmaster: sha-lcr-webcomments@usbr.gov
Updated: September 27, 2012