Participants in Math/Science-Oriented Educational Program
Visit Hoover Dam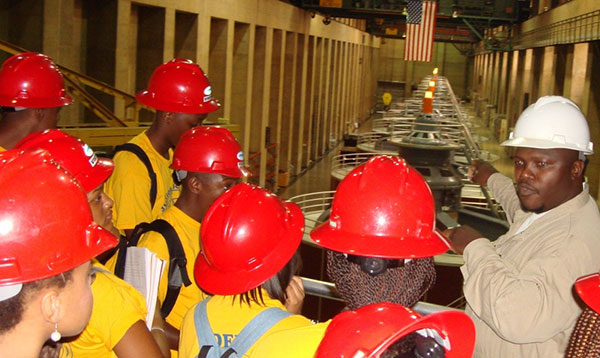 "My experience today was very interesting. I got to see things in person that I've only seen online. It was a very good experience for me." Those sentiments of student Ikeia Smith were also the sentiments of many of the students who visited Hoover Dam on July 8, 2014.

"The visit was part of a summer experience for 15 students participating in the University of Nevada, Las Vegas (UNLV) Academy for Mathematics, Science and Engineering," said Lisa Rashidi, an Academy coordinator, who is based in Georgia at the Fort Valley State University. The program is part of the parent program – Cooperative Developmental Energy Program (CDEP), whose mission is to increase the number of minorities and unrepresented groups to pursue careers in the energy industry.

"It was really interesting," said student Vincent Glover. "We got background and a behind the scenes look at things you can't see when doing research. It was a good hands-on experience and an explanation of details we didn't know about."Student Tyler Peters added, ". . . it was interesting to see the turbines."

While student Cameron Brown commented, "I enjoyed Hoover Dam today. The tour was really good and I enjoyed seeing the dam in operation, and how the turbines work."
To these comments counselor Calvin Jones said, "The whole tour was very nice. When we came here four years ago, we didn't do nearly as much as these students got to do. We did a lot more today. It was cool to see how each of the turbines operating on both sides of the dam – Arizona and Nevada." "For future students of the program, we would tell them Hoover Dam is a great, marvelous place," he added.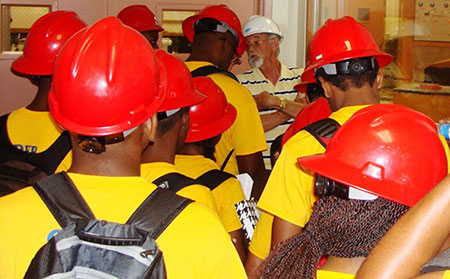 "We're always excited about coming to Hoover Dam," said Isaac J. Crumbly, Ph.D., Associate Vice President for Career and Collaborative Programs/Director of CDEP, when asked about the tour's impact on the students.

"We look at all aspects of the energy industry – renewable and nonrenewable," he said. "We want kids to have an opportunity to see hydro-energy plants as well as well as wind, as well as nuclear, as well as fossil fuel plants. When it comes to hydro-electric structures, I don't think you can match Hoover Dam – its history, its importance to the country, and now the dam not only provides energy, it regulates water use down the river to grow food and what have you."

"So, not only are the kids getting an understand of the how the water is used to turn the turbines to generate electricity, they're also getting a sense and looking at a larger picture of how harnessing natural resources, nobody can beat the Bureau of Reclamation at this, how it impacts the entire country and how the world is better because of that," he added. "So we're not only getting energy but we're actually controlling the water as it goes downstream and provides vegetables and fruits for kitchen tables."

"Hoover Dam has been on our schedule since 1994, and we only missed one year," Crumbly continued. "We've always maintained our contact with staff members so we can always make this a part of our tour. Hoover Dam is an icon when it comes to the country and students these days they don't really know about these things. It is so real important that they relate to a bygone part of our history, a very important part of that history and what they did back in the late 20s and early 30s with this. It's still working and its doing very well and it's because it was built well. And it is managed well. That's what we like about this program."
During lunch, Dr. Crumbly commented also that when he was a boy in the 1930s, his father described Hoover Dam as an ". . . engineering marvel and was great example of American accomplishments." Then he added that his father never had a chance to visit Hoover Dam and had only seen it in photos.
His recollections almost made his visits to the dam a personal tribute to his father.

To qualify for this program, students must have at least a "B" average in mathematics and
science classes. Since the program is extremely competitive, most of the students are in the top "A" average group of students in their classes.
The program is based on the "pipeline" concept. Last week's visiting students have been in the
program for two years. They applied for it when they were in the eighth grade. Students cannot enter in the middle of the program. "This year, they came to UNLV," said Rashidi. "Next year they will go to the University of Arkansas and in the final year they will go visit the program's corporate sponsors in Houston, Texas. On campus, they receive instruction in engineering, geo-science, and they go on field trips, such as the one to Hoover Dam. Later this summer, they will visit Grand Canyon."
"Thank you to Rob Skordas and his team at Hoover for hosting the Ft. Valley Students," said EEO Specialist Yvette Scott. "Amy Cutler did a fantastic job in welcoming the students!" she added. Near the end of their tour the students posed with their chaperones and guides in front of Hoover Dam. As they said, this was their souvenir shot.

Scott also extended a ". . . special thank you to our employees who took time from their busy schedules to be our guides – Electronic Computer Systems Mechanic Ron Crouch, Hydroelectric Mechanic Randy Pryor, Control Center Operator Gene Richardson and Electrician Cecil Levy – and especially Management Support Specialist Beth Young, Management and Program Assistant Tracie Lopata, and Mechanical Engineer Jeff Ommen for their assistance in planning and making the students' time at Hoover a success. I think all the students really enjoyed and appreciated the time they spent with us and really seeing Hoover at work."
Photos by Steve León, Lower Colorado Region, Bureau of Reclamation

Webmaster: sha-lcr-webcomments@usbr.gov
Updated: July 2014