Outdoor Recreation, Education Highlighted at
Public Lands Day Event in Laughlin

By Colleen Dwyer, Technical Writer, Engineering Services Office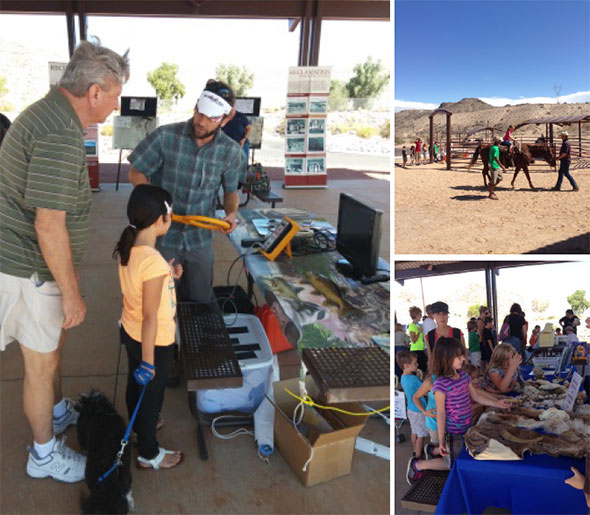 LEFT – LCR MSCP staff member Nathan Lenon, center, shows a youngster how the passive integrated transponder (PIT) tag system works. RIGHT TOP – Horse rides at the Equestrian Trail Trailhead were a favorite attraction among many youngsters. RIGHT BOTTOM – The Nevada Department of Wildlife provided a hands-on exhibit for children by a allowing and encouraging them to touch the pelts from various animals.

More than 350 people enjoyed a sunny, breezy National Public Lands Day near Laughlin, Nevada, on Saturday, Sept. 27. Informational booths, learning activities, hikes, and stewardship projects highlighted the day's events, all focused toward caring for the nation's shared lands.
Several staff from the Region's Resources Management (RMO) and Lower Colorado River Multi-Species Conservation Program (LCR MSCP) offices supported the day's activities.

Bill Martin and Cheri Woodward of the Lands Group led teams of local students and other volunteers in installing several interpretive and way-finding signs at Colorado River Heritage Greenway Park trailheads.
Becci Rogers and Adrianne Reed hosted a booth highlighting the history of the area as it relates to the Davis Dam contractor and government camps, and distributed maps of the newly expanded Park trail system.
Nathan Lenon shared details on the programs in Lake Mohave and near Big Bend State Park (upstream and downstream of Davis Dam, respectively) that help foster the populations of endangered fishes of the Colorado River.
"From the looks of the storm that blew through on Friday, I wasn't sure they would even be able to hold the event," said Reed. "As luck would have it, Saturday turned out to be a picture-perfect day and a lot of folks came out to enjoy all the wonderful activities at and around the park."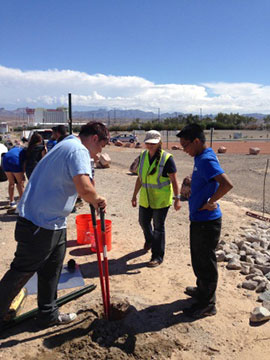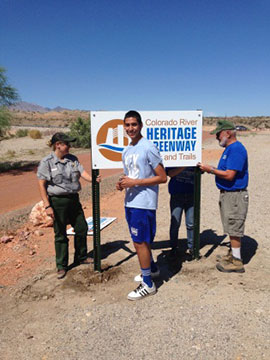 ABOVE LEFT – Cheri Woodward, center, of RMO, supervises while students install the Desert Trail Trailhead Parking Sign. ABOVE RIGHT – Amanda Rowland, left, of the National Park Service, and a few crew members install an additional trailhead sign.
Approximately 200 children joined in a variety of activities ranging from a species identification "scavenger hunt" to a "lawn fishing" contest (with Velcro fish and bait/hooks) to creating 'Leave No Trace' bracelets and lanyards.
Several youngsters enjoyed flying kites on the day use area's grassy field, paddling in the splash pad, and indulging in playground activities, all of which were developed through a partnership among Reclamation, the National Park Service, and Clark County, supported by funding from the Southern Nevada Public Land Management Act.
Although the Park system was dedicated in 2012, Reclamation, with the support of contractor and student work crews, has continued to expand the trail network, and today, it consists of more than 14 miles of trails for joggers, hikers, bicyclists, and equestrians.

"The delightful sight and sound of laughing children flying kites, learning fishing skills, looking at tortoises and snakes, horseback riding and playing on the splash pad, as well as digging postholes and setting trail signs truly brought home the importance of Public Lands Day and the integral role LCR plays in meeting the DOI goals of Learn, Play, Serve, Work," said RMO Chief Valerie Simon. "I'm proud of the LCR staff that helped make the day such a success at the Colorado River Heritage Greenway Park and Trails."

In addition to Reclamation, the day's events were supported by the National Park Service, Nevada Department of Wildlife, Clark County Parks and Recreation Department, Town of Laughlin, Nevada State
Parks, Hitchin' Post Stables, and several local volunteer groups and schools (Academy of Building Industries of Fort Mohave and Laughlin High School Interact).


A panoramic view of the Colorado River Heritage Greenway Park and Trails.

Webmaster: sha-lcr-webcomments@usbr.gov
Updated: 10/6/14