Students Gain Reclamation Careers Insight
During National Job Shadow Day Experience
By Steve Leon, Public Affairs Specialist
Bureau of Reclamation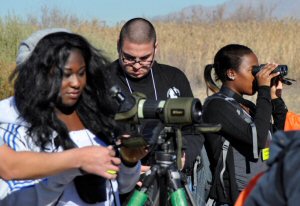 Students from Western High School in Las Vegas view wildlife with Reclamation staff during a national Job Shadow Day experience. (Click on image for full-size photo.)
Each Feb. 2 is marked on calendars as Groundhog Day. That date is also known as National Job Shadow Day, an observance that strives to give students a new perspective on their studies through hands-on learning and a one-day mentoring experience.
This year, on Feb. 4, 50 students from Western High School in Las Vegas visited the Bureau of Reclamation office in Boulder City, Nev., to participate in this "job shadowing" experience.
Following a brief welcome by Lisa Cronister, Chief, Human Resources Office, and Equal Employment Opportunity Office Manager Linda Rivera, the students were assigned to an office and mentor or mentors, whom they "shadowed" throughout their visit.
The event provided an opportunity to introduce future employees to the variety of careers available in Reclamation and the Region.
"Shadowing" someone on the job can be an academically motivating activity that gives students the unique opportunity for an up-close look at the world of work and provides the answer to the commonly asked question, "Why do I have to learn this?"
This is exactly what Regional Office volunteers had in mind for their students.
As part of the day's activities, Lower Colorado River Multi-Species Conservation Program (LCR MSCP) staff members took nine seniors to the Clark County Wetlands Park Nature Center and Mitigation Ponds to learn about wetland habitat restoration and wildlife identification.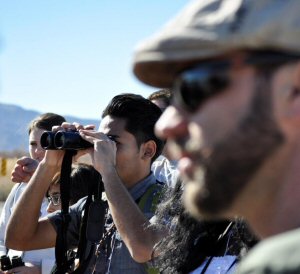 Reclamation biologist Nathan Lenon (foreground) identifies birds with Western High School students at the Las Vegas Wash. (Click on image for full-size photo.)
Nick Rice of the Southern Nevada Water Authority met the group at about 9 a.m. As they walked through the Center, he provided an overview detailing the numerous inflows into the wash (tributary washes, treated sewage discharges, shallow groundwater, and surface runoff), and discussed efforts to control erosion, enhance the wetlands, and improve the quality of water flowing into Lake Mead.
"While the Las Vegas Wash is not an LCR MSCP project, it provides a local example of habitat restoration and wildlife observation techniques," said Nathan Lenon, an LCR MSCP biologist. "We led the group on a walking tour around a series of ponds and trails vegetated with native mesquites and cottonwood."
They also stopped at key locations to observe birds and their, nests, and trees on which beavers had chewed.

"In a little more than one hour, we observed Great Blue Herons, Northern Shovelers, Common Coots, ring-billed gulls, Greater Yellowlegs, Northern Harriers, ravens, Sharp-Shinned Hawk, and a Black Phoebe," Lenon said. "We provided binoculars, spotting scopes on tripods, and bird field guides to provide an up-close viewing experience, paired with a study of the specific features used to identify birds."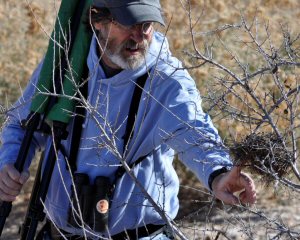 Reclamation biologist Joe Kahl examines a bird's nest during national Job Shadow Day at the Las Vegas Wash. (Click on image for full-size photo.)
He added that this year's tour was the most successful yet.
"All of the students were actively engaged in the activities," he said. "We attribute the success to having more staff involvement and a larger group to generate more enthusiasm, as well as additional equipment to ensure continuous participation by all."
For this part of the Shadow Day experience, the LCR MSCP volunteers also included Jed Blake, Laura Sandor, Allen Calvert, and Joe Kahl.
Additionally, Rivera acknowledged the ". . . many others who were involved in the day's experiences, including Jason Kirby, Julie Martinez, Mark Slaughter, John Stemmer, Peter Harbauer, Cindy Myers, Mike Bernardo, Joe Stubitz, Robert Bunker, and John Ricker."


Webmaster: sha-lcr-webcomments@usbr.gov
Updated: February 2013