Kangas Shares Collection Analysis Skills with CREC Crew Working at CC Wetlands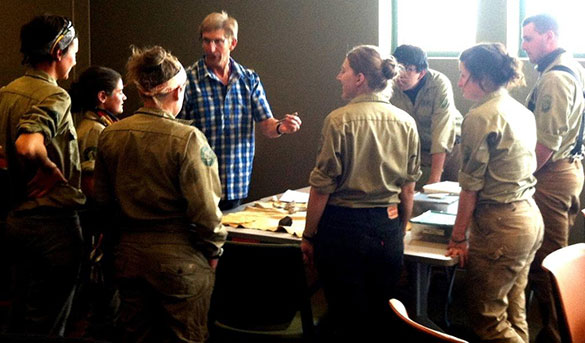 "This was a very rewarding activity to me because the Corps members found it to be interesting and beneficial to their work."

Those words summarize Jim Kangas' sentiments about a presentation he gave on March 12 at the Clark County Wetlands Park Nature Center.

Kangas, an archaeologist in the Resource Management Office (RMO), spoke to members of a Reclamation-sponsored group, part of the Coconino Rural Environment Corps (CREC), about cultural resources in the Las Vegas Wash and the Wetlands Park.

Initially, he provided an overview about the history of Las Vegas Wash and the archaeological research that has been conducted there since the 1970s.

"After my overview," he said, "I led an artifact identification exercise. The exercise simulated an archaeological collection analysis."

"The members broke in to four groups and examined four different collections consisting of artifacts made of bone, antler, and stone, pottery shards, and other cultural materials such as seeds and charcoal," Kangas added. "Each group examined and described their collection, and presented their findings to the rest of the group. The objective of the exercise was to provide the members with the ability to recognize artifacts and archaeological materials in the event that they discover any during their work in the Wetlands Park."

"The CREC crew worked in the Wetlands Park to improve trails and habitat," said Wetlands Park Coordinator Brandon Barrow. "Part of their experience is education and Jim graciously agreed to come and talk to the crew about the archaeology of the Las Vegas Wash and Wetlands Park."
As part of their work/education experience at the Clark County Wetlands, these Coconino Rural Environmental Corps members learned about archaeological collection analysis. Sharing his knowledge and expertise about the subject is RMO Archaeologist Jim Kangas. Photo courtesy of Brandon Barrow, Clark County Wetlands the crew about the archaeology of the Las Vegas Wash and Wetlands Park."

He added, "The Wetlands Park appreciates the great partnership that exists between the Park and Reclamation. What Jim did for the CREC crew highlights why this relationship has been successful over the years. Realty Specialist Jason Kirby was also key to the crew's work in the Wetlands Park."

Barrow attended Kangas' presentation along with the seven CREC members, from Flagstaff, Ariz.
"The Corps worked on clean up and vegetation projects from March 5 to 12 in the Wetlands Park," he said. "Some of the work was conducted in areas where there was a concern about cultural resources."
Reclamation and Clark County entered into a 50-year Reclamation and Public Purpose Lease in 2000, which lends to the strength and quality of the relationship. The Park was also named an America's Great Outdoors Project in 2013.

The Wetlands Park consists approximately of 2,900 acres, with 1,151 acres of land owned by Reclamation; the remaining acreage is owned by Clark County. Reclamation lands are an important piece of the Park and provide habitat for the desert tortoise. Additionally, the Wetlands Park contains the Las Vegas Wash Archaeological District made up of dozens of significant archaeological sites.


Webmaster: sha-lcr-webcomments@usbr.gov
Updated: March 2014