2012 C.A.S.T. (Catch a Special Thrill) for Kids
Let's Move Outside
A Great Success for Reclamation's Boulder City office
By Rose Davis, Regional Public Affairs Officer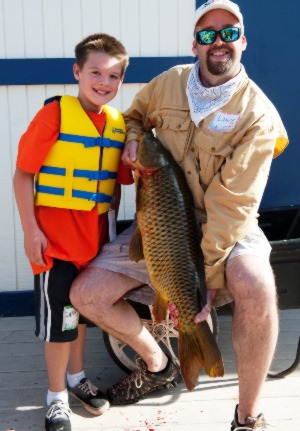 Some people might say that C.A.S.T. for Kids participants have fallen in love with the program "hook, line and sinker."
At this year's C.A.S.T. (Catch a Special Thrill) for Kids/Let's Move Outside (LMO) event at lake Mead, almost 50 percent of the volunteers and participants were returnees. This included 43 anglers and 32 family members and escorts, and volunteers, which brought the total to 165 participants.
In fact, Scherrie Adams-Ambre, executive director of Give me A Break, Inc., and Debbie Oliver, executive director of AmeriFace, which are participating community service organizations, said many of their clients often ask months in advance if they can come to the annual event.
But regardless of whether the participants were novice anglers or had experienced the excitement of C.A.S.T. previously, "It was another fun day of fishing for the participants and the local Bass Club anglers who volunteered to fish with them," said Event Coordinator Phil Aurit.
Complementing the fun was the ". . . teamwork and cooperation among the volunteers," Aurit said. "We always strive to provide a high quality outdoor experience. Everything went pretty smoothly. Everyone did a great job!"
"Our participants are disadvantaged or may have a disability that doesn't allow them to do some things the same way as others might, but none of them have any limitations on having fun; you could see that in their smiles."
The event was held at the Las Vegas Boat Harbor (LVBH), made available by Managers Gail Kaiser and Erin Chartworth.
The mother of one of the anglers said, "We've done this a few times, and my daughter just loves it!" Other family members and other anglers expressed similar comments about how much their child or client enjoyed the activity.
However, the anglers were not the only event veterans, some of the volunteer boat captains have participated in several C.A.S.T. fishing events. "I've got two grandkids, and I just love fishing with boys and girls like this. Somebody in the community's got to help," said one event veteran.
"It's all about putting a smile on their faces and having fun," said Aurit.
About an hour before lunch and the awards ceremony, the anglers and the members of their parties were invited to take short cruises in Hemenway Harbor. Fourteen boats were used for fishing and two were used for cruises. Few of the participants declined the offer.
Following the boat rides, everyone moved to the LVBH's patio area. There all guests enjoyed a picnic lunch with a menu that incorporated the foods of healthy eating while promoting the health benefits of physical activity and fishing as part of the Let's Move Outside initiative.
In addition to the trophies for the C.A.S.T. participants, each one received a certificate, commemorative T-shirt and plaque, as well as an assortment of "goody" bag souvenir items.
'Life Saving' Act
One unanticipated event at C.A.S.T for Kids involved a young boy named Richard, who was not part of the event, but was at the dock with his mother and grandfather.
In an effort to have a closer look at the large carp swimming by, he fell into the lake. While most others never notice as they ate lunch, Warren Wagner, a C.A.S.T. volunteer from the Nevada Striper Club, almost immediately jumped into the water and saved the 4-year-old boy.
The boy was a little shocked, startled and very wet, but otherwise fine.
Wagner was very wet too. As he went through his pockets he found his wallet and cell phone were soaked.
Looking at his phone he said, "I can replace my phone, but you can't replace a little boy!" The boy's mother and grandfather were very grateful for Wagner's quick life-saving response.
These Bureau of Reclamation images are within the public domain and can be used without restrictions.
If reproduced, credit should be given to:
"U.S. Department of the Interior - Bureau of Reclamation"

Webmaster: sha-lcr-webcomments@usbr.gov
Updated: October 16, 2012