Students Experience Career Insight
During National Job Shadow Day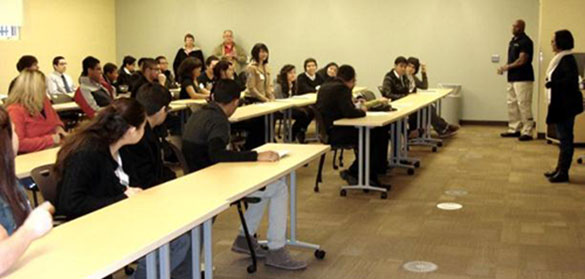 February is a month of various observances. Among them is National Job Shadow Day, which strives to give students a new perspective on their studies through hands-on learning and a one-day mentoring experience.
This year 30 students from East Career and Technical Academy in Las Vegas visited Reclamation's Lower Colorado Regional Office to participate in this observance, "shadow" Regional employees and learn about some aspects of their jobs.
The event provided an opportunity for potential job applicants to learn about the Region, its work, and how employees, with job interests similar to those of the students, apply their expertise and knowledge to their work and goals of the Region.
"Shadowing" someone on the job can be an academically motivating activity that gives students the unique opportunity for an up-close look at the world of work and provides the answer to the commonly asked question, "Why do I have to learn this?" This is exactly what Regional Office volunteers had in mind for their
students.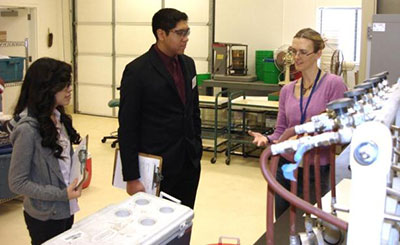 As the students returned to the Training Center for lunch and a brief discussion period, EEO Manager Linda Rivera asked if the students had a good time and all responded with a strong "yes."

"What stood out for me was Hoover Dam and how it was built," said Justin Windsor. "It was spectacular. I had never been to the dam."
"The construction around Hoover Dam impressed me," said Avery Woofter.
"What impressed me was the variety of things Reclamation does with water, with fish," said Ansell Caberra.
"I was amazed with the demonstration at the lab and she [Amy Stephenson] made the evaporate and only the minerals were left, and how she showed the difference between table salt and natural salt," said Ruben Padilla.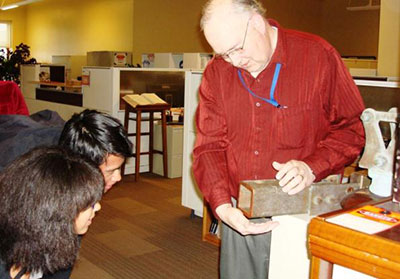 "I liked the hands-on stuff in the lab," Sarah Nunez said. "To get to use the samples and the beakers, we don't really do that at school, so that was a good experience."
"I had fun learning about different geological things," said Luis Bacardo.
"I really learning about everything we did related to NEPA – laws and history," Catlene Smith. "It was very interesting. I had a good time."

Webmaster: sha-lcr-webcomments@usbr.gov
Updated: February 2014