Regional Employees Volunteer for Annual Student Bridge Contest for Southern Nevada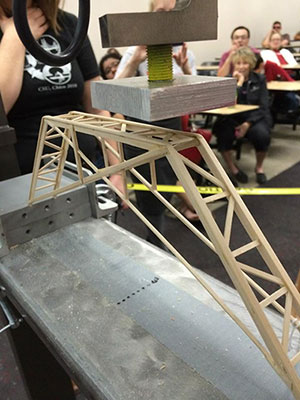 Did you ever use your skill, ingenuity, craftsmanship, and a meticulous attention to detail to build something special – just so someone else could destroy it in a matter of seconds?
On March 1, students from more than 61 local elementary, junior, and senior high schools enthusiastically submitted their wooden model bridges for load testing to the point of destruction to do just that.

At the 25th Annual Southern Nevada Regional Student Model Bridge Building Contest, sponsored by the American Society of Civil Engineers (ASCE), and held at the University of Nevada-Las Vegas (UNLV), more than 680 students from across the valley submitted approximately 480 bridges they created for this special testing.

"This year marks the largest number of participants to date," boasted contest co-chairman Rich Eastland. "According to my calculation, we tested one bridge approximately every 1.12 minutes!"
Eastland attributes the contest's success to the volunteers who gave their time to the event.
"The contest ran very smoothly," he said. "It was a long day, and
everyone worked extremely hard."

At this year's Southern Nevada Regional Student Model Bridge Building Contest more than 480 bridges were tested to determine their efficiency. Sixty-one schools participated – 40 elementary, 12 middle and 9 high schools. The results of the testing are displayed in the lower left photo. LCR photos by Rich Eastland
In addition to Reclamation volunteers that included Tony Baquera, Joe Stubitz, Noe Santos, Steve Belew, Paul Matuska, and Eastland, the contest organizers included professionals from the Southern Nevada Water Authority, Terracon, and Orth-Rogers Engineering.

Eastland speculated that participation has grown due to sponsorship of the contest.
"We've received tremendous support this year," he remarked. "We have little to no overhead cost, which means that money from sponsorships is directly tied to our ability to purchase additional basswood, which is provided to Title I schools in the form of donated bridge kits. It's a great way to reach children from disadvantaged communities, who would normally not be able to participate."
Eastland estimated that this year more than 250 children from Title I schools were able to receive a donated bridge kit.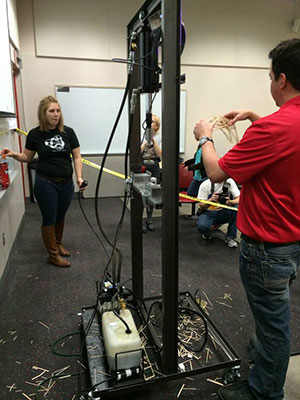 The objective of the contest is to test the load-bearing capacity of each wooden bridge entry by loading it to the point of failure. The bridges are then ranked according to efficiency, calculated by dividing the total weight that the bridge supports before failing by the weight of the bridge.

Contest specifications require all entries in the model bridge building contest to be designed and constructed according to strict standards. The bridge materials consist of 3/32-inch square cross-section basswood included in the kits supplied to the schools by the sponsors. The wood may be notched, cut or laminated in any manner, and fastened with any commonly available glue. But no other materials may be used in the bridge's construction.

Other restrictions are that the bridge must span a distance of 300 millimeters (about 12.5 inches), and the maximum length cannot exceed 400 mm (about 16.5 inches), the minimum height 100 mm (about 4 inches), the maximum height 200 mm (a little less than 8 inches), and the maximum width of 80 mm (about 3 inches). In past competitions bridges designed to these specifications have carried loads as high as 140 pounds.

The contest is the result of a partnership among the Bureau of Reclamation, American Society of Civil Engineers in coordination with the UNLV and the Clark County School District, Terracon, Orth-Rogers Engineering and other local engineering firm
Webmaster: sha-lcr-webcomments@usbr.gov
Updated: March 2014